Mz. Hyde Park talks about The Soul Shack
11/18/2020, noon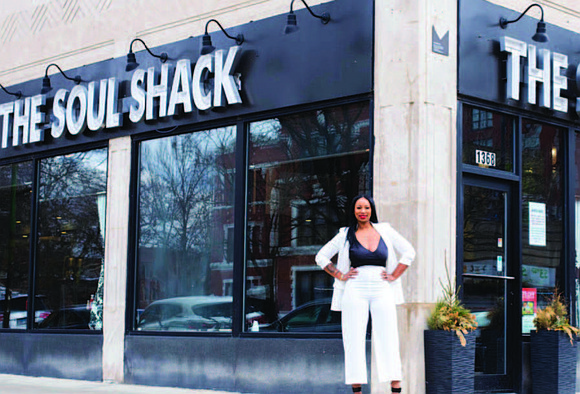 Mz. Hyde Park talks about The Soul Shack

BY TIA CAROL JONES
     Keisha Rucker earned the name "Mz. Hyde Park" because she grew up in Hyde Park and attended elementary and high school there. Now, she is running a business in the same community. Rucker is the co-owner of The Soul Shack, which is located at 1368 E. 53rd St.
     Rucker said she got into the restaurant business because the opportunity presented itself and she thought it was the perfect location. She said she wanted to open a restaurant because she loves cooking.
"I host all events at my home, Christmas, Thanksgiving, Fourth of July, Taco Tuesday, just because. Any reason I can cook and get my family and friends together, I do so," she said.
     Rucker's business partner, Eric Nance, already had the name "The Soul Shack" and they ended up going with that name. She said the Soul Shack menu is actually her Thanksgiving dinner menu. "I don't do traditional turkeys, I do the jerk Cornish Hens, my kids don't like turkey. I do lamb chops, roast or beef short ribs," Rucker said. She added her business partner came over for Thanksgiving dinner. "He came to the house, everything I had, he tasted. He was like, 'this is perfect, this is it. Let's do it.'"
     The menu included lamb chops, a surf and turf, with salmon and lamb chops. Or, a surf and turf with salmon and beef short ribs. The restaurant's signature dish is the Jerk Cornish Hen. This month, dressing was included in the menu at the Soul Shack.
     "I just wanted to offer things that nobody else had, I wasn't trying to be competitive. I just wanted to be different. I wanted to offer our community something we did not have," she said.
     Rucker said the beef short ribs are very popular. She said they melt in your mouth. She added for people who like spicy food, they like to Jerk Cornish Hen.
     Rucker said when it comes to her favorite, she is torn between the Jerk Cornish Hen and the short rib. She said the Cornish Hen is naturally juicy, they don't need to be basted like the turkeys. One of the more unique dishes is the Soul Roll, which is a roll filled with jerk chicken, macaroni and cheese, greens and sweet potatoes. Rucker said she and Nance created the roll. "We were in the kitchen and we had all this food … We were just playing with some food and we put it together and we were like, Soul Rolls, it is," she said.
     Rucker said since opening last year, she has learned that communication is important. She said it is important that people in the food industry know how to speak to people. She said anybody who wants to get into the food industry and open a restaurant should try it.
     "Everything is not for everybody, but I definitely believe something is for everyone. Step out on faith, out yourself out there. Try it, see if it works for you. If it doesn't, you could say I tried it," she said.
     Rucker said COVID-19 affected a lot of things when it comes to her restaurant. She said her five-year plan was definitely turned around due to the pandemic. "So far, we have been holding on, I have been able to keep all of our employees. I haven't had to change my food costs, it's been working out," she said.
     Rucker said that supporting the restaurants during COVID-19 is important because people aren't just supporting that restaurant, they are supporting that community.
    I see a lot of businesses in communities closing. That definitely puts an impact on how our communities look, how the income and finances affect our communities," she said. "If possible, I suggest people stay in their communities and shop in their communities because you're putting resources back into where you live, and that's very, very important to me."
     For more information on The Soul Shack, visit www.thesoul53.com, or call 773-891-0126.