SOUTHLAND COLLEGE PREP HIGH SCHOOL IS MORE THAN AN ACADEMIC POWERHOUSE
5/20/2020, noon | Updated on 5/20/2020, noon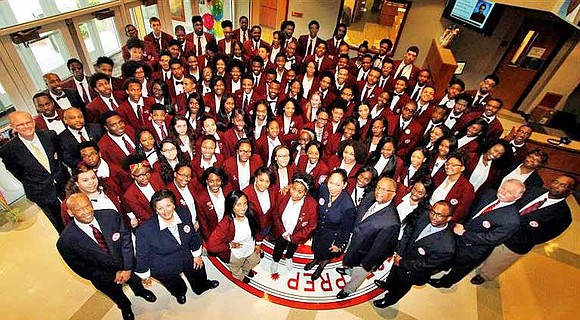 Southland College Prep High School is More Than An Academic Powerhouse
BY WENDELL HUTSON, Contributing Writer
Administrators at a Richton Park high school whose students are predominately black said the charter school does more than send students to college, but also cranks out future leaders as well.
"In this unprecedented year, marked by school closures and the loss of so many traditional rites of passage, our seniors have made extraordinary accomplishments despite the many challenges imposed to maintain the health and safety of all during this historic pandemic," said Blondean Davis, CEO of Southland.
"All 136 seniors have been accepted by colleges and universities with a record $60 million in merit-based scholarships (thus achieving our goal) that every graduate is admitted to a four-year college or university and has the financial resources to attain a bachelor's degree."
After being founded 10 years ago, Southland College Prep Charter High School (sd162.org/southland) has maintained a 100 percent college acceptance rate for the last seven years, while also steering students into a variety of industries, such as science, technology, engineering and math, said Robert Lane, director of college admissions for Southland.
Several graduating seniors agreed with Lane that the charter school not only prepared them for college academically, but also mentally as well.
Ashley Meeky, a 17-year-old Richton Park resident, said her favorite subjects are literature and math and she plans to attend Vanderbilt University in Nashville, Tenn. this fall to study international relations and economics. The ambitious student said after college, she plans to work in corporate America and travel abroad to learn about different cultures.
"I'm not just a student, but also an active school member. I participate in track and the International Honor Society," said Meeky, who commands a 4.7 grade point average. "Southland gives you a lot of support. The counselors there are hands on and that is what separates the school from all others."
Laniah Ephraim, an 18-year-old Chicago Heights resident, said she plans to attend the University of Southern California to study biomedical engineering and fashion design as a first generation student graduating with a 4.5 GPA. She wants to pursue a career as a researcher and said she hopes to find a cure for infertility in women.
"As a first time generation student in my family, I feel a little pressure to succeed in college, but not a lot. I want to make everyone proud and I am confident with the education I received from Southland, I will do just fine," said Ephraim, a member of the school's volleyball team. "Learning how to manage your time and be confident in your abilities are some of things I gained from Southland. These are life lessons that will help me prepare for adulthood after college."
Southland operates on a nine hour school day from 8 a.m. to 5 p.m. five days a week. And according to Lane, the school's curriculum is rigorous with a strong emphasis on math, science, technology, language, and fine arts. After-school extra-curricular activities include sports, speech, forensics, band, chorus, dance, and service projects.
Lane added that the school is different from other schools for many reasons.
"I'd like to say that Southland provides three core things when it comes to students and that's academics, athletics and the arts," he said. "We are a family at Southland and our staff and teachers are dedicated to helping students and we see ourselves as a student's extended family."