Entrepreneurs Create Unique Face Masks For Small Businesses During COVID-19 Pandemic
5/13/2020, noon | Updated on 5/13/2020, noon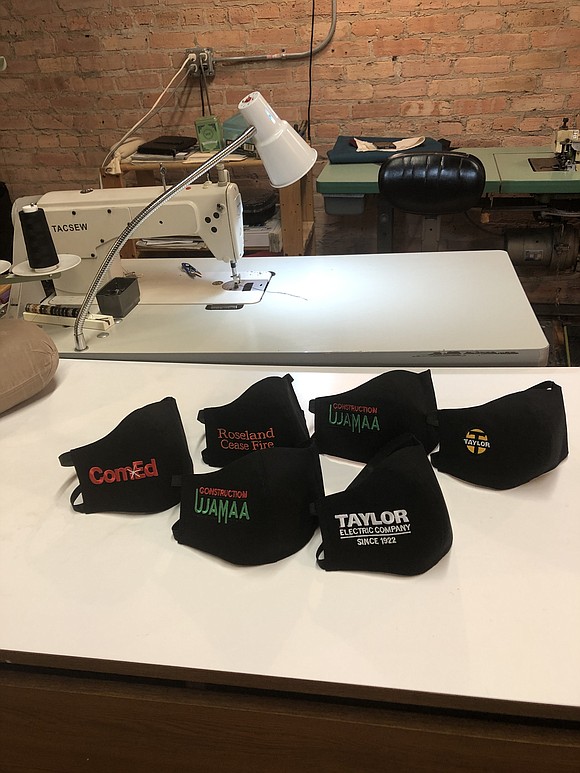 Entrepreneurs Create Unique Face Masks For Small Businesses During COVID-19 Pandemic
BY WENDELL HUTSON
Contributing Writer
There's no question the COVID-19 pandemic has crippled Chicago's economy, especially when it comes to small businesses, which is why two South Side entrepreneurs are now working together to produce unique facemasks.
Derryl Caldwell and Delvin McCray, both have offices in the Bridgeport Art Center, 1200 W. 35th St., both are members of Kappa Alpha Psi Fraternity Inc., and both have a unique skillset that now allows them to expand their services to include facemasks production for black-owned businesses.
"The facemasks idea came about after I had a conversation with the president of Seaway Bank, who pushed me to expand my craft and design facemasks for small businesses," contends Caldwell, a 51-year-old Hyde Park resident and founder of DC Mad Hatter, a customer embroidery company. "I do the embroidery portion and Delvin does the manufacturing. I bank at Seaway, so I talk to Mr. Newell all the time."
Daryl Newell, president of Seaway, a division of Self-Help Federal Credit Union, said he talks to Caldwell often about business opportunities.
One morning, Caldwell and Newell were talking on the phone about the COVID-19 situation and how hard it was to get facemasks. "That's when we started talking about how he could expand his custom embroidery business from hats and t-shirts to facemasks," recalled Newell. "We started talking about different cloth facemasks available that were either too expensive or would tear up in the washing machine. That's when I told him I see an opportunity for him to grow his business."
McCray, founder of Delvin McCray Inc., said he was already manufacturing facemasks and now wants to concentrate more on helping small businesses, such as black-owned businesses.
"Everyone involved with the production of these masks are local, black companies and that's a collaboration you don't see everyday," said McCray, a 27-year-old tailor and Englewood resident. "What we are doing is not only helping to keep the community safe, but also helping our fellow black businesses too. And that is what excites me the most about this venture."
According to Caldwell, clients include Brookins Funeral Home, Salem Baptist Church, Kids Academy Daycare, and UJAMAA Construction Inc., all Chicago-based, black-owned entities. And because facemasks are in high demand, Caldwell said he is not accepting any new orders.
"Of course that could change down the road, but for now, I have my hands full with my current clients," he said. "I'm cranking out 150 masks a week for clients and that's a lot when you are a small business."
Newell added small businesses do not need a ton of employees to grow and companies don't have to be super large to be innovative. You just have to be yourself, he said. "That's what capitalism is all about."
There are various places to buy cloth facemasks, like online or even at local gas stations.
But Caldwell said his facemasks are different from the others being sold.
"Your life's work is on these facemasks. The company's logo is designed on the masks, which allows for it to be used for marketing purposes," explained Caldwell. "Just think about all the places employees go when they leave work where they could advertise their employer at no additional cost to the company."