Hawaiian Sunsets Launches Kids Umbrellas with UV Protection
3/25/2020, noon | Updated on 3/25/2020, noon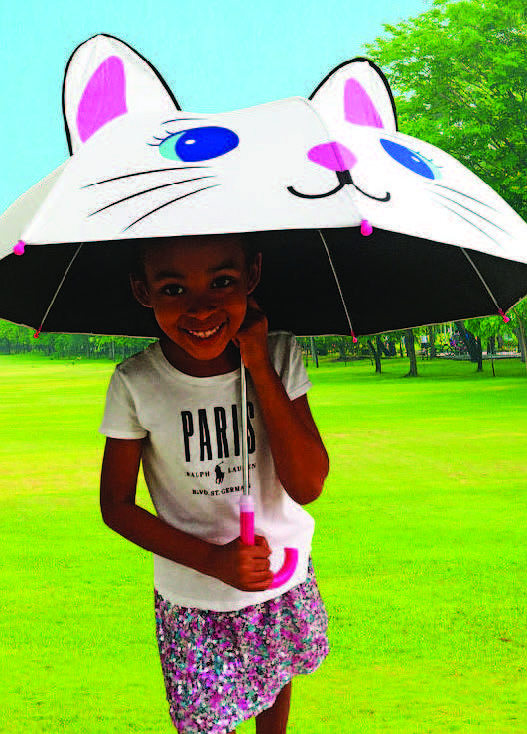 Hawaiian Sunsets Launches Kids Umbrellas with UV Protection
Just in time for the spring rain and the sunny summer months, Hawaiian Sunsets recently launched a series of umbrellas for children that according to a press release, not only protect them from the rain, but also the damaging Ultraviolet (UV) radiation from the sun. These new line of kids umbrellas supplement their original line of umbrellas for women with UV protection. The kids umbrellas are currently available in three fun animal designs with 3D ears that automatically pop up when open.
"Remember when you enjoyed being outside in the rain? We designed a fun safe umbrella that children can use to enjoy being outside again, whether in the rain or the sun," said co-founder Andrea Franco. The kids umbrellas were designed with children's safety in mind and are easy to slide open and close. "This safety design keeps those little fingers safe and will not pinch them."
"Most umbrellas are made with cheap polyester fabric that is difficult on the environment. For this reason, we made the decision to use pongee fabric for all of our umbrellas though they are more expensive, they are more eco-friendly, abrasion resistant and resist fading. We are working hard to make a better future for our families by using sustainable products with higher quality materials," said Andrea.
Hawaiian Sunsets Umbrellas has designed the umbrella for kids with UPF50 protection that blocks 98% of UV rays and protects children from both harmful UVA and UVB radiation. UPF50 protection is the highest level of sun protection for fabrics, according to a press release.
Andrea Franco mentioned an additional important benefit of the UPF50 protection. "Your children will feel cooler under the hot sun with UPF50 protection," he said.
Hawaiian Sunsets umbrellas are also fully backed by a 30 day money-back guarantee.
Created in 2018 by a husband and wife team looking for better umbrellas that could protect them from the elements, Hawaiian Sunsets is the maker of a variety of stylish UV umbrellas intended to provide protection from the rain, the wind and the sun. Kids umbrellas and umbrellas for women with UV Protection are available on Amazon.com or www.HawaiianSunsetsUmbrellas.com.
Hawaiian Sunsets is currently developing other products for the whole family.