BOURBON DRINK CREATED TO HONOR CHATHAM RESIDENT AND POLITICAL WHIZ BRIAN SLEET
3/25/2020, noon | Updated on 3/25/2020, noon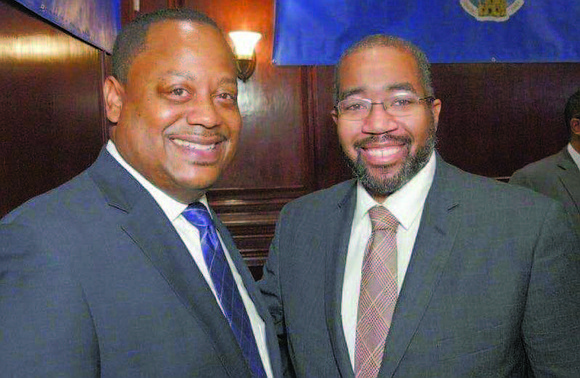 Bourbon Drink Created To Honor Chatham Resident and Political Whiz Brian Sleet
BY WENDELL HUTSON
Contributing Writer
A Park Manor business owner teamed up with Ald. Roderick Sawyer (6th) two weeks ago to start selling "1792: Bottled in Bond" in honor of their good friend and Chatham resident the late Brian Sleet.
"He was a bourbon drinker, so I decided to do this as a way to remember him while also honoring many of his good deeds," said Ahmad "Eddie" Elkhatib, owner of A&S Beverages, 308 E. 75th St., which Elkhatib described as a liquor boutique and not a liquor store. "So far, the drink (which cost $39.99) has generated $750, which I donated already to Something Good In Englewood, an organization that provides advocacy and social services to Englewood residents."
For more than 30 years, Elkhatib has operated the Park Manor store and said he first met Sleet, a regular customer, in 2011, when the pair developed a friendship, especially since they both were bourbon lovers.
"I loved Brian because he was a significant guy who would give his shirt off his back to help someone," said Elkhatib. "I got the idea to honor him from thinking about him all the time especially during election time when he would be hard at work."
Sleet, 41, unexpectedly died in December 2018 from heart disease, according to the Cook County Medical Examiner's Office. Single with no children, Sleet was a political consultant and previously served as chief of staff to Sawyer from 2011 to 2016 before leaving to help Kim Foxx get elected as the first, black female Cook County State's Attorney. Sleet had unsuccessfully run against Sawyer in 2011 before going to work for the South Side alderman, who defeated incumbent Freddrenna Lyle, now a Cook County judge.
"[He was] a mentor to many and someone who really believed in the African-American community," Foxx told the Citizen. "He also had a great sense of humor and [today] we keep his legacy alive with a fellowship program."
As a former resident of the Cabrini-Green public housing complex on the Near North Side, Foxx said she knows about defying odds and achieving success and Sleet, an attorney, did the same.
"Brian was an incomparable strategist," she added.
Known as a political whiz at city hall, Sawyer said Sleet was more than a former employee, but also a beloved friend.
"Brian and I were very close. He was one of my best friends. And I must admit, I was thrown back when I learned of his death," recalled Sawyer, whose ward includes Chatham and Park Manor. "I was waiting to meet him that evening when I got a call about what happened. His death was a devastating loss to me and to the city of Chicago."
The creation of the bourbon was a year in the making and Sawyer said it was Elkhatib's idea to do this.
"I did bourbon tastings with "Eddie" before he decided on the 1792," added Sawyer. "Brian loved a good bourbon as I do too."
But Sleet's appetite for community organizing and politics started long before he studied sociology at Dartmouth College and obtained a law degree from the University of Illinois, according to Gregory Myles, 41, who graduated with Sleet in 1996 from Whitney M. Young High School.
"If Brian would have done anything else but go into politics, that would have been a surprise to me," said Myles, owner of Gregg's Barber & Beauty Salon in Roseland. "In high school, he would always let everyone know what was going on with the school and community."
The last time Myles saw Sleet was two months before he died when they had lunch together.
"It was a few of us from high school and we all hung out with Brian. We had lunch, smoked cigars and had a nice time," recalled Myles. "I was with him for about five hours that day. Brian was a regular guy with a lot of lawyers and who was a little bit of everything."