Englewood Community Pushing to Reopen Shuttered Green Line Train Station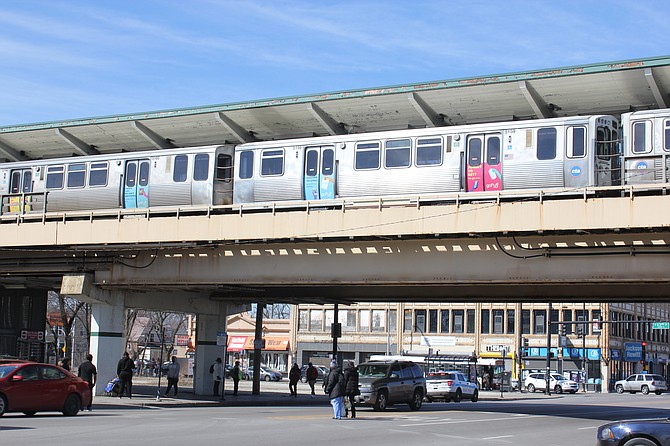 ---
Englewood Community Pushing to Reopen Shuttered Green Line Train Station
BY WENDELL HUTSON, Contributing Writer
There's a growing movement in Englewood to have a shuttered Green Line train station reopened now that economic development is underway nearby.
A recent groundbreaking at 63rd Street and Racine Avenue for Phase I of an economic development plan, "Go Green on Racine," that includes opening a fresh produce store this fall; converting a nearby vacant, 16,500 square-foot building into a 12-unit apartment complex, and repurposing the former Granville Woods Academy building, 6206 S. Racine Ave., into a recycling facility.
And all of this is the beginning of a bigger development plan for Englewood, contends Ald. Stephanie Coleman (16th).
"Racine Avenue is where we [Englewood residents] work, live and play. And with so much economic development planned for the 63rd Street Corridor, it only makes sense to have it supported by public transportation," said Coleman, whose ward includes the train station. "The time has come to reopen this station."
She added that Ogden Park, 6500 S. Racine Ave., is walking distance from the train station, and if it reopens, that makes the park more accessible to families.
"We don't want any barriers preventing foot traffic to the area, especially for those who live in that immediate area," added Coleman.
The station opened in 1907, but closed in 1994 when the CTA shut down the entire Green Line for two years to make extensive repairs. But when the Green Line opened back up in 1996 the Racine station never reopened.
Brian Steele, vice president of communications for the CTA, declined comment.
Despite the closure, Englewood still has two Green Line stations at 63rd and Halsted streets and 63rd and Ashland Avenue. The distance between the two stations is 1.1 miles, and while that might not sound far to some people, Englewood resident Martha MacArthur, 68, said try walking from one station to the next one.
"It's a nice walk, especially if you are old with bad knees like me," said MacArthur, who lives on 64th Street and Racine Avenue. "I would kill to have that train station (63rd Street and Racine Avenue) reopened because then I wouldn't have to walk or wait on these slow buses."
Local nonprofits and community groups like Teamwork Englewood and the Resident Association of Greater Englewood support Coleman's desire to reopen the station.
Asiaha Butler, a longtime Englewood resident and co-founder and president of R.A.G.E., said the station never should have closed.
"It was no reason to close it in the first place because there's a lot of foot traffic over there. And I'm sure the closure has created a transportation barrier for residents," said Butler. "By reopening the station, it would compliment any type of economic development and beautification work along that Racine Corridor."
Both Coleman and Butler said ideally they would like to see the station reopened by 2025, but acknowledged it could take longer because the CTA is not the only agency involved.
"All hands on deck will be needed for this to happen. I'm talking about the federal government, Cook County, Chicago Department of Transportation, and the state of Illinois," explained Coleman. "Right now we [community organizers] are in the early stages of discussions with these agencies, but I definitely plan on pushing until the station reopens because it isn't doing the community any good boarded up."
---