CHICAGO HEIGHTS COMMUNITY HEALTH CLINIC CONTINUES MISSION
3/18/2020, noon | Updated on 3/18/2020, noon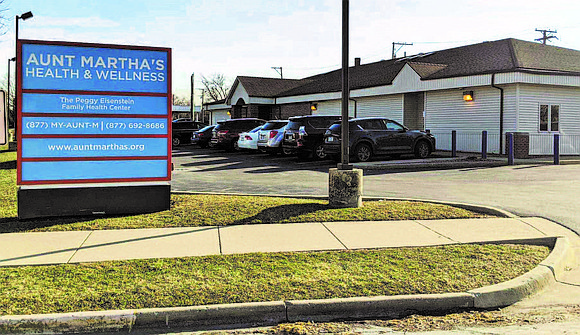 Chicago Heights Community Health Clinic continues mission
BY TIA CAROL JONES
Aunt Martha's Health and Wellness believes in integrated health and is continuing the mission it started 17 years ago at the Chicago Heights Community Health Clinic, located on 1536 Vincennes Ave.
Aunt Martha's acquired the site after St. James Hospital approached them about taking it over. Aunt Martha's President and CEO Raul Garza said the payer exchange moved from being largely commercial insurance to Medicaid.
"I just don't think they saw themselves being able to sustain a clinic for the Medicaid population. So, we had become a federally qualified health center just a few years before that and they had approached us about our interest in taking it over. So, we took the practice over and we bought the space," he said.
Originally, Aunt Martha's was occupying two buildings on Joe Orr Road in Chicago Heights. One was used as offices, the other was a clinic.
"We were doing family planning services out of it and then eventually, when we became a federally qualified health center, we started doing women's health out of that building," he said. "We were seeing a lot of activity out of that clinic on Joe Orr and Dixie Highway. And, we just felt like there was more need for services."
Garza said it just made sense to open a clinic there.
"Plus, there were already a good number of patients who were Medicaid eligible patients already going to that clinic, so we didn't want to disrupt their care at that site," he said.
Aunt Martha's also wanted to expand on what they were doing at the clinic on Joe Orr Road which allowed them to dedicate the Chicago Heights clinic, "as more of a family clinic, adult clinic," Garza said.
The Chicago Heights Community Health Clinic provides primary care, adult psychiatric care and therapy, as well as family planning. It serves a little less than 6,000 -- 5,800 patients annually – and provides 16,000 visits a year. Garza said it is a very busy clinic.
"We're getting patients from a lot of different communities, not just Chicago Heights. South Chicago Heights, Ford Heights, Sauk Village Glenwood, Homewood, even Matteson," he said. "We're really pulling from a lot of different communities."
Garza said if he had to guess, the clinic has served roughly 100,000 patients during its history, with about more than 250,000 million visits during the 17 to 18-year period.
He added the clinic, much like all the services Aunt Martha's provides, takes an integrated approach.
"We really do a holistic evaluation to see if there are other needs we can treat or refer the patient for treatment, so that we're not just providing episodic care," Garza said.
According to Garza, an integrated approach allows healthcare providers to take everything going on with a patient into consideration. It also allows them to figure out what is a good treatment plan, so the patient can get healthier.
"We certainly want to identify everything that could be going on with a patient and how to get that patient to the right provider. A lot of that can happen with community partners," he said.
Some of those community partners include Franciscan Health, School District 170, Bloom High School District 206, Bloom Township, Chicago Heights Park District, Chicago Heights Public Library, Jones Memorial Community Center, Prairie State College and Illinois Action for Children.
Garza added almost a quarter of the patients Aunt Martha's sees are uninsured. These people might have jobs, but don't qualify for health insurance or Medicaid. The Chicago Heights Community Health Center provides services on a sliding scale for them, based on their income and what they can afford. He said it lines up with the Affordable Care Act.
"I think the Affordable Care Act is meant to give access of many services to people, it's also meant to provide care in a value-based way so we can illustrate that patients are getting healthier in our care," he said. "We feel like we not just line up with the principles and goals of the Affordable Care Act, but we also embrace it and we believe in it."
For more information about the Chicago Heights Community Health Clinic, visit www.auntmarthas.org or call 877-692-8686.