VIRTUAL REALITY DR. KING EXHIBIT ON DISPLAY AT DUSABLE MUSEUM
3/4/2020, noon | Updated on 3/4/2020, noon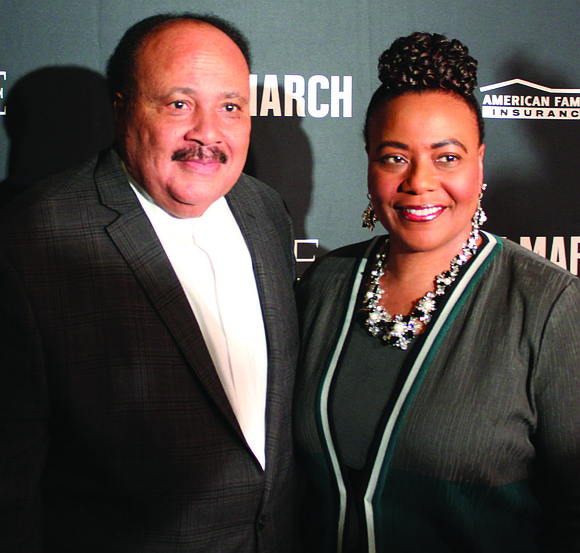 Virtual Reality Dr. King Exhibit On Display At DuSable Museum
BY WENDELL HUTSON, Contributing Writer
The much-anticipated Dr. Martin L. King Jr. exhibit, "The March," opened to the public last Thursday and will run until November at the DuSable Museum of African American History.
The new exhibit, produced by Time Studios and sponsored by American Family Insurance, captures the 1963 March on Washington for Jobs and Freedom and Dr. King's famous "I Have a Dream" speech to virtual reality for the first time. "The March" exhibit along with every other exhibit is free with your admission to the DuSable Museum, 740 E. 56th Place. Admission is $12.50 for adults ($14.50 for non-Chicago residents) and $9 for students and seniors ($11 for non-residents).
And museum officials said because of the high demand for the exhibit, people should reserve their space online in advance at dusablemuseum.org to ensure they are able to see the exhibit on the day they attend.
For 14-minutes, the exhibit takes you to Washington, D.C. and places you in front of King as he spoke to thousands of people who traveled there to hear his speech. The exhibit also allows you to experience civil rights marches by letting you walk side by side with protestors holding signs and shouting as they marched for equality. The real life experience delivered by this exhibit not only shows King and his followers, but also lets you hear them too.
DuSable Museum President and CEO Irmer Perri said the exhibit would introduce new generations to the civil rights movement.
"This is extremely important today because as we witness and experience an uprise in white supremacy, hatred, racism, and violence, it's critical that our youth understand the battles that were fought for equality and civil rights," she said.
The museum hosted a Feb. 26 VIP reception to kickoff the new exhibit whose executive producers are Academy Award winner Viola Davis and her husband Julius Tennon, who both attended the reception along with the staff of their production company JuVee Productions.
Davis also narrated the project and this marks the first time the estate of Dr. King has granted rights for a project like this, according to Martin L. King III, who attended the reception along with his sister, Bernice King.
"I felt like I was on fire after experiencing it," Davis told the Citizen. "I was able to look into Dr. King's eyes and see what he saw back then and how his words electrified people to stand up for their rights. It is truly a powerful experience that I hope everyone in Chicago comes out to see for themselves."
Historian Timuel Black was among the 300 people who attended the reception. The 100-year-old civil rights leader organized protest marches for King during the 1960s when he visited Chicago.
"Dr. King was not just about words, but action too. That's why he marched throughout Chicago and the south and it is why he went to Washington, D.C. in 1963 to give his speech about a vision that had come to him and that vision for him was a dream," said Black. "His legacy lives on and I don't know any other black person who has been dead as long as King, but whose imprint is still being felt today."
DuSable was founded in 1961 by a group including Chicago historian and artist Margaret Burroughs, and is named for Jean Baptiste Point du Sable, credited with founding Chicago in 1779.
According to Black, the DuSable Museum was founded as a way to celebrate black culture because during the 1960s, black history was often overlooked by most museums.
"This is where we [blacks] came to learn about our ancestors because no other museum existed where black history was talked about," recalled Black. "That's why it is so important that black folks support black institutions like the DuSable Museum. We need to preserve our history because if we don't, it will be lost forever."