Project Hope continues to make impact in community
3/4/2020, noon | Updated on 3/4/2020, noon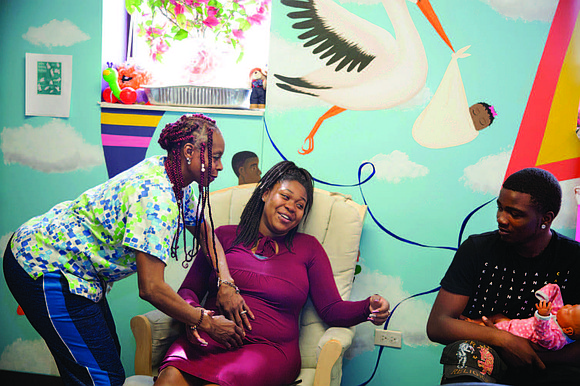 Project Hope continues to make impact in community
BY TIA CAROL JONES
A program that began more than 30 years ago is still changing the lives of pregnant and parenting teenage girls and young women.
Project Hope began with Maureen Hallagan and her mother, Kay, who had been doing some volunteer work at Marillac. They wanted to do a teen care program. And, what began as a three-year pilot program, became Project Hope.
The program provides resources to pregnant and parenting teens, ages 12-25, and includes doula services, home visits and education classes, as well as child care.
"At that time, there were very few programs that were specific for teens and pregnant and parenting teens," said Hallagan, who is the chief operating officer at Marillac St. Vincent Family Services. "We received funding from the Community Trust to do a pilot program."
The program also received funding from the Ounce of Prevention Fund, which was just starting out at the time. It started at Rockwell Gardens, a housing project in East Garfield Park.
"It started out very small. We had one home visitor and Sister Helen who was working with us at the time," Hallagan said. "When it was at Rockwell Gardens, the majority of the young women lived at Rockwell. So, we had sort of a pipeline of young women to work with from being there."
Once the program moved to the Marillac building when it was on Jackson Street, Project Hope became a bigger grantee of An Ounce of Prevention. One of the key components of the program is the home visiting piece, where home educators and doulas work with the pregnant teens and their families. Peter Beale-DelVecchio, CEO of Marillac St. Vincent Family Services, said while there's programming at the center, there's also the convenience of in-home participation.
Hallagan said 23-24 years ago, Project Hope was one of the first programs to bring in the doula. And, it added Health Connect One and Irving-Harris Foundation as partners.
"Irving-Harris was really big on wanting the doula program to be brought to teens that were at risk, that were pregnant or parenting," she said. "Ounce of Prevention, Irving-Harris, along with the Robert Wood Foundation, they came in to help us develop the doula program. It took about a year in the planning. The whole idea was that it would be embedded in the home visiting program."
Hallagan said the home visiting program goes by the age of the mother. So, participants can stay in the program until age 25. They also made a change to the doula program that made a difference.
"We did change it to meeting the young girl at the hospital and her family. And so, where we used to get young girls coming into our program when the babies were 10 months old, now we were starting to get them when they were in their first and second trimester," she said.
Hallagan said the home visitors/educators and doulas receive a tremendous amount of training and their role is to nurture and support the mom.