Residents take advantage of COVID-19 testing at Compassion Baptist Church
6/24/2020, noon | Updated on 6/24/2020, noon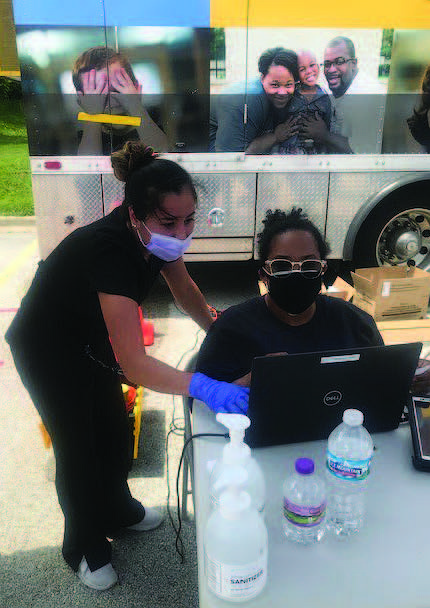 Residents take advantage of COVID-19 testing at Compassion Baptist Church
BY TIA CAROL JONES
With African Americans and Latinx communities being disproportionately affected by COVID-19, there was a need in Southeast Chicago for a COVID-19 Testing Site. Recently, Aurora Advocate Health and Compassion Baptist Church came together to help fill that void.
From June 10-June 16, from 9 a.m. to 3 p.m., on Wednesday-Tuesday, Aurora Advocate Health opened a COVID-19 Testing facility at Compassion Baptist Church, located at 2650 E. 95th St. According to Aurora Advocate Health, more than 100 people took advantage of the mobile testing service.
While testing was focused on those who had symptoms, people who did not have symptoms, but who still wanted to get tested, also had an opportunity to get a test.
Rev. Watson Jones III, pastor of Compassion Baptist Church, said he had been trying to get testing in the community.
Jones said Compassion Baptist Church has a partnership with Trinity Church where Trinity hosts health fairs at his church. "I had been trying to reach out to Trinity since late March, early April, offering space for coronavirus testing and asking them to consider, because at the time, there was not testing on the south side of Chicago, and I wanted testing for our community – Black and Latino, as well, so we could kind of know where we are, since we were hit so hard."
Jones said he also went through State Rep. Curtis Tarver, D. Dist-25; State Rep. Kam Buckner, D. Dist. 26; and State Rep. Marcus Evans, Jr., D-Dist. 33, to get testing through the state of Illinois. He said there was a quick connection for the tests through Advocate Trinity Hospital President Rashard Johnson. He credited Jackie Rouse, manager of Community Health & Volunteer Services, with having a commitment to bring testing to the community.
He added Rouse "worked at Trinity in our area for quite some time, I think she was just very passionate about really serving our community," he said. "I think for Jackie, she was thinking very community-minded. How can we help out our community when we know that Black folks in Chicago and Latino folks in Chicago have been the hardest hit, dying two or three [times more] than white people have been [dying]. So, I think that was some of Jackie's passion, was to get as many people tested as possible."
Jones said it was the church's second time doing COVID-19 testing, through Howard Brown Health Center. He said it was through talks with the alderman and a deacon who works for the Chicago Department of Public Health. He said there were 121 people who were tested in one day.
"My heart's desire, my goal and still is a goal, is to have testing in our area, be it for a week, be it permanent. My heart is to see permanent, and not necessarily at Compassion, but in this area, because the Southeast side is its own unique area," he said.
Turnaround time for test results are within three to seven days and were available via the Advocate Aurora Health LiveWell mobile app or staff would contact people who did not have access to the app.
In an effort to expand testing and focus on communities impacted by the virus, Aurora Advocate Health also opened a COVID-19 testing facility at Imani Village, located at 901 E. 95th St.
"This is the next phase of our push to offer more COVID-19 testing to the communities that need it most," Johnson said in a press release. "By taking testing right to the people we serve, especially in communities that have been hit the hardest, we hope to stem the spread of this virus. Expanding access to testing is a critical part of that effort."