CHICAGO STIMULUS PAYMENTS COULD BENEFIT COLLEGE STUDENTS DURING COVID-19 PANDEMIC
6/24/2020, noon | Updated on 6/24/2020, noon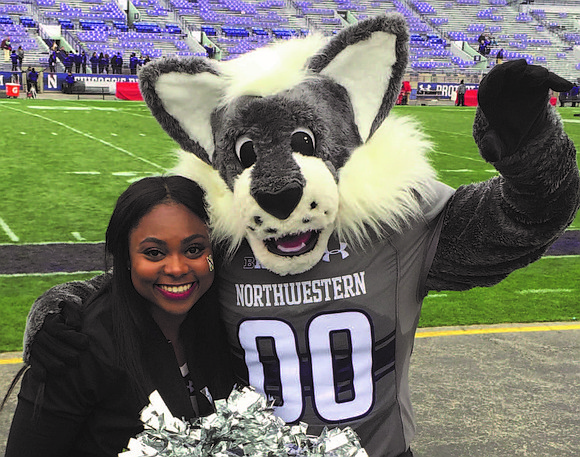 Chicago Stimulus Payments Could Benefit College Students During COVID-19 Pandemic
BY WENDELL HUTSON
Contributing Writer
For the first time in three years, Brielle Hampton, a 20-year-old college student, has not had a summer job, thus limiting monies she normally would use to buy school supplies and engage in summer activities.
"It feels strange not working for the summer. I am used to getting up in the morning to go to work, but because of the COVID-19 pandemic, I am among the millions of people out of work at this time," said Hampton, a Beverly resident." College students depend on summer jobs to help pay for school and to have some money in our pockets so we don't have to ask our parents."
Hampton, a junior and cheerleader at Northwestern University in Evanston, along with countless college students, may be eligible to receive a $1,000 payment from the Chicago Resiliency Fund.
According to Erendira Rendon, vice president of immigrant advocacy for the nonprofit Resurrection Project, the fund was created as a way to help those who may not have qualified for a $1,200 federal stimulus check this year due to their immigration status or because they were claimed as dependents on someone else's tax return.
"The Fund has raised $5 million to provide economic relief to 5,000 individuals who qualify," said Rendon. "The Open Society Foundations donated $1 million and an anonymous donor gave $4 million."
The Fund began accepting applications on June 22 and will continue processing applications on a first-come, first-serve basis until all funds are distributed, said Rendon, who added that checks would be mailed to applicants four weeks after they are approved. To apply, go online to resurrectionproject.org/ChicagoFund or call 312-880-1145.
And to be eligible, you must be a resident of Chicago, at least 18-years-old, did not receive a federal stimulus check, and your household income must be less than 300 percent of the poverty level. All applicants will have a phone interview and must provide proof of residency and household income. So, college students would need to provide their parents' proof of income. Aside from college students, illegal immigrants and non-working spouses or partners who were claimed as dependents are also eligible to apply.
The Fund is a partnership between the Mayor's Office, the nonprofit Open Society Foundations and the nonprofit Resurrection Project. The Open Society Foundations donated $1 million and an anonymous donor gave $4 million, but none of the monies came from taxpayers, said Mayor Lori Lightfoot.
"As part of my fight to mitigate the effects of economic hardship and poverty in Chicago, I know that what people struggling right now need is money, and this fund will get them just that to make ends meet," explained Lightfoot. "This fund serves as a critical resource for the thousands of Chicagoans who sorely need support and relief from the impact of COVID-19, but are unable to receive it through the federal government's own stimulus channels."
But Hampton said the city of Chicago should have donated to the fund since it allocates monies to other areas.
"I feel like the city of Chicago could have taken money away from the police department and put it into this fund. With Chicago being the third largest city in America, I'm sure it could have pinched a little bit here and a little bit there to shore up some money," Hampton told the Citizen. "Don't get me wrong, I'm grateful 5,000 people will be helped, but in reality that's not a lot when you think about all the people that's eligible to apply."