Small Business Program helps contractors involved in CTA Project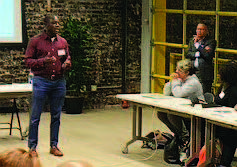 ---
Small Business Program helps contractors involved in CTA Project
BY TIA CAROL JONES
CTA has partnered with Walsh-Fluor and Local Initiatives Support Corporation (LISC) Chicago to create a Building Small Business Program that helps contractors interested in working on the Red and Purple Modernization Phase (RPM) One Project.
The CTA Building Small Business Program (SBP) aims to provide financial and technical support to small businesses that are certified disadvantaged business enterprises, or DBEs. DBE's include businesses that are at least 51 percent owned by socially and economically disadvantaged individuals.
JuanPablo Prieto is the director and disadvantaged business enterprises liaison officer of CTA diversity programs. Prieto said the aim is to assist small firms to increase their financial capacity and access to working capital, equipment loans and other financial resources. "We look to connect small businesses with financial resources they need to participate on the RPM Phase One Project and not only participate, but [to] grow their firms financially," he said.
Prieto said 91 firms have attended the workshop portion of the program and 76 have completed the one-on-one sessions with a banking professional. He said the program has helped firms get $4.1 million in financing which includes Payment Protection Plan and Economic Injury Disaster Loan funds through the Small Business Administration due to COVID-19.
Prieto added the SBP program is targeted to construction and construction related companies because that is where the opportunities exist.
Companies that are interested attend workshops and learn about maximizing capital, equipment and real estate, as well as how to get more capital and how to increase cash flow. The companies go into a one-on-one session with a banking professional, who goes through the companies profile to see what assets exist. The banking professional also assists with a path towards gaining more working capital.
"Some firms might need to purchase another piece of equipment to expand their scope. Say they do drywall and they want to get into masonry, but they need a set of equipment to do that, he [the banking professional] can help set them up with an equipment loan [so] they can purchase whatever they need to start competing in different types of work," Prieto explained.
Prieto said the RPM contract was awarded at the end of 2017. In fall 2019, ground broke on the project. Prieto added, it will take four to five years before the project is completed.
The goal of the project is to rebuild and modernize the North portion of the CTA Red Line and to build a Red-Purple Bypass so those lines can keep running while the Brown line goes west.
Prieto said that because of the size and scope of the project, it allows the CTA to hire more individuals and contractors to work on it. He said the CTA always strives to make sure those contractors and individuals working on the project reflect the community that CTA serves.
"The partnership between CTA, Walsh-Fluor and (LISC) Chicago is what makes this unique," Prieto said. "We have the public organization, private contractor and the non-for-profit to really understand the needs of small businesses and have the resources to address those needs as best that we can."
---