Wells Fargo Launches $400 Million Small Business Recovery Effort
7/22/2020, noon | Updated on 7/22/2020, noon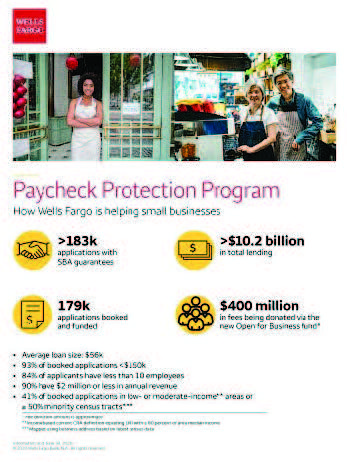 The Open for Business Fund is accepting applications from CDFIs and special purpose funds formed by CDFIs serving racially and ethnically diverse small businesses for its first grant cycle, open now through August 7.
Additional grant cycles focused on technical assistance and recovery and resiliency will open later this year. Nonprofits can learn more at www.wellsfargo.com/about/corporate-responsibility/community-giving.
Small business sentiment
The Small Business Index, which provides a quarterly pulse check of sentiment from small business owners on their economic situations and the wider economic landscape, highlighted higher optimism on their financial outlook in June than in April. However, this was still 19% lower than in January, prior to the outbreak of COVID-19. In specifically oversampling African American, Hispanic, Asian, and women business owners, June's survey also observed that 52% of these owners felt the U.S. economy was in a recession or depression, while 26% said they did not feel very prepared or at all prepared for the economic downturn from the pandemic.
"June's survey saw business owner optimism increasing as reopenings have been getting underway, but the overall data shows that for many, there's still a long road to recovery," said Mark Vitner, chief economist at Wells Fargo. "The pandemic's effects are also still being sorted out as communities across the country are in different stages of recovery, so optimism around indicators like revenues and number of jobs will continue to shift as those stages progress."
Contributing to the small
business ecosystem
Building a thriving small business sector has a lasting impact on communities and on job creation. Since 2015, the $175 million Wells Fargo Diverse Community Capital program has enabled more than 90 CDFIs to finance $1.6 billion in loans and offer 1.8 million hours of training to diverse small business owners, which have helped them sustain 195,000 jobs.
As part of the Diverse Community Capital program, the Wells Fargo Foundation and the National Association of Latino Community Asset Builders started the nation's largest loan fund for Latino-owned small businesses with a $10 million grant.
Separately, in March, Wells Fargo announced it aims to invest up to $50 million in Minority Depository Institutions (MDIs) as part of its commitment to support economic growth in African American communities where MDIs, often community-based banks, provide mortgage loans, small business lending, and other banking services.
Small Business Index Methodology
Results for Wells Fargo/Gallup Small Business Index survey are based on web interviews with 1,478 small business owners, conducted during the period of May 29-June 5, 2020. This survey also included an oversample of diverse segments — ensuring a minimum of 300 interviews each among African American, Asian, and Hispanic small business owners. Beginning in second quarter 2019, the interview process formally transitioned from outbound phone data collection to a national small business web opt-in panel provider.