SocialWorks hosts virtual summer camp
7/22/2020, noon | Updated on 7/22/2020, noon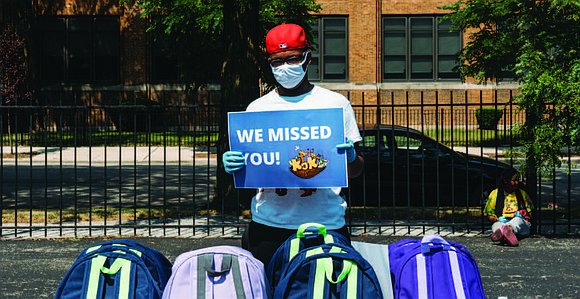 SocialWorks hosts virtual summer camp
BY TIA CAROL JONES
Social Works' Kids of the Kingdom Camp began a couple of weeks ago with students ready for a summer of learning about God.
This year, with COVID-19, Kids of the Kingdom (KOK) has a bit of a twist, the camp has gone virtual.
SocialWorks is the philanthropic arm founded by Chance the Rapper. KOK was started in the late 1970's by Gladys Bennett, Chance's great grandmother.
Essence Smith, SocialWorks director of operations and communications, said the camp was able to expand to two locations last year: Lilydale Baptist Church, located at 649 W. 113th St., and Progressive Baptist Church, located at 3658 S. Wentworth St.
This year's restructuring of the camp due to COVID-19 takes the camp from seven weeks to four weeks. This year, there are about 93 campers and last year, Smith said there were 120 campers.
This year, the camp, which began on Monday, July 6, will last until Friday, July 31. There are 20 staff members who work virtually at the camp.
Smith said on Mondays, the campers go to their site, either at Lilydale or Progressive, they can pick up their kit for the week. The kit included masks, hand sanitizer, KOK journals and book bags and all the materials necessary for class for the week. Campers also pick up a shelf-staple meal, provided by the Greater Chicago Food Depository.
"Every day, throughout the week, Monday through Friday, they have virtual classes. They can go on zoom and so, depending on their age and their gender, they can do different breakout rooms," Smith said.
The day starts out with vacation Bible school, with campers learning about parables from the Bible.
"It is a faith-based camp. That's why it is housed in two churches. That's what it started off being. So, Chance didn't want to change that. He very much so believes in the word and making sure it is embedded into the youth as much as it can be," Smith said.
After the vacation Bible school, elective classes are held and include art and dance classes on Tuesdays. On Wellness Wednesday, the campers had a class taught by Sista Afya, founded by Camesha L. Jones, LCSW, with the mission to help Black women across the African Diaspora sustain mental wellness. On Thursdays, it starts with vacation Bible school, then goes into art, fitness and even a nature course. Lessons are either live or pre-recorded.
On Fridays, in the afternoon, the campers can come back to their campuses and get a hot meal from a food truck.
"We've been able to support three Black-owned businesses, restaurants, for that portion of camp. We have BJ's Market, they're serving our first meal for the kids, so each camper can take a meal for them and two meals for their family. Each camper can walk away with three hot meals on Friday," Smith said.
Smith said typically for seven weeks, camp costs $150. This year, the camp was free.
"We didn't feel right charging for virtual classes, so this year, we provided it for the students and the campers and the parents for free," Smith said.
Smith said there are opportunities to donate to ensure the camp continues, since SocialWorks was not able to have a fundraiser this year due to COVID-19.
Smith said there were conversations about whether or not having camp during COVID-19 made sense. SocialWorks surveyed parents to find out if they would participate in a virtual camp. Smith said the response was about 95 percent in favor of hosting the camp virtually.
"We're just adjusting to the times and that's how we ended up doing what we did, just making sure we listened before we act, which is very important to us at SocialWorks," Smith said.
For more information on SocialWorks, visit www.socialworkschi.org.