Tineco Launches Into Beauty With Smart Hair Dryer Innovation
7/15/2020, noon | Updated on 7/15/2020, noon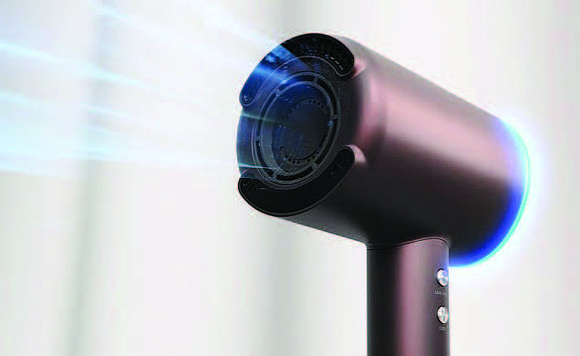 Tineco Launches Into Beauty With Smart Hair Dryer Innovation
Tineco has launched its next generation smart hairdryer, the MODA ONE™.
Over two years in the making, the MODA ONE is designed with advanced iLoop™ Smart Sensor Technology that measures hair moisture levels over 20 times per second and automatically adjusts heat and airflow in real-time to prevent damage to hair.
The MODA ONE also comes equipped with anion concentration technology which, according to a press release, releases millions of ions as hair dries for increased manageability, protection, and shine.
The digital motor utilizes 13 impeller blades to spin up to 105,000 rotations per minute, which is more than three times faster than the average hair dryer, the press release reports.
Keeping the user experience in mind, Tineco incorporated intelligent noise optimization for ultra-quiet operation, lightweight materials for easy use, a cool shot button, and an 8.8 foot long tangle-free professional power cord. Included with the modern sleek design are three magnetic attachments including a smoothing nozzle, styling concentrator, and diffuser to dry and style all hair types.
Additional innovations include a colored iLoop LED light ring on the dryer that provides real-time drying feedback by changing from red to blue to indicate when hair is dry and to prevent overdrying. Users can connect directly to the MODA ONE with their smartphone to select manual or several additional pre-programmed drying modes such as Cool, Styling, Pet, and Kids Mode.
"We are very excited about the MODA ONE launch," says Todd Manegold, general manager North America. "We see this as an important step in the evolution of Tineco and our ongoing commitment to make household appliances smarter. This new, smart hair dryer leverages Tineco's innovative sensor technology and allows the hair dryer to adapt to each person's hair and styling needs. Our goal is to make the hair drying process easier and faster, helping keep everyone's hair healthier."
Tineco's goal for the launch of the MODA ONE is to provide consumers with a premium and luxurious experience that promotes the integrity and health of the hair and scalp. Currently, Tineco is awaiting multiple design and utility patents for its invention. The brand has made a significant investment into the creation of the MODA ONE to ensure the product delivers as it makes its debut into the competitive beauty category. The MODA ONE is available to purchase for $299.99 directly on the Tineco website, us.tineco.com, and on Amazon.com