Thornton Township PROGRAM HELPS SENIORS WITH SERVICES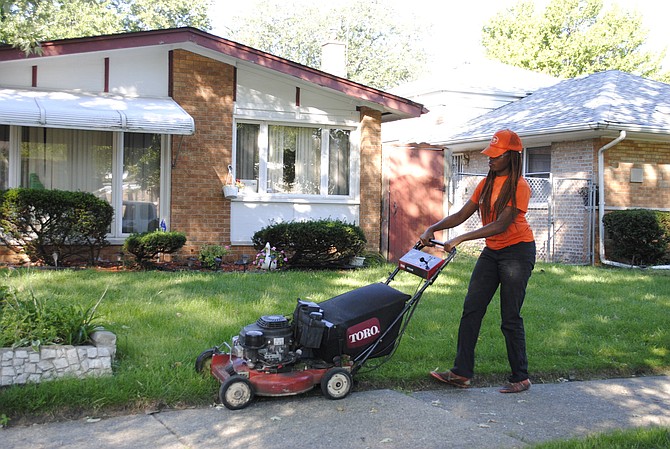 ---
Program helps seniors with services
BY TIA CAROL JONES
A longstanding program from Thornton Township continues to help seniors, while also offering employment for teens.
The Zuccarelli Assistance Program or ZAP, started by Thornton Township Supervisor Frank M. Zuccarelli, allows teens, ages 16 and older, the opportunity to get paid for mowing lawns of seniors, age 60 and older, who live in one of the 17 municipalities included in the township.
The program, which started in 2004, runs from April to the end of October. In April, the teens are trained and in the first week of May, they begin to service lawns in the township.
Stan Brown, is the manager of the Zuccarelli Assistance Program. He said ZAP is a great community service program because it helps seniors who don't have an able-bodied person in the house to maintain their lawns.
According to Brown, there are up to 1,100 seniors serviced a week, about 220 lawns a day, Monday through Friday and there are 75-125 teens who range from high school to college, who service the lawns. Crew leaders are paid $5 for every lawn that is cut. Crew members get paid $4 for every lawn and crews have the opportunity to cut between 10-17 lawns per day. Brown added the youth work in weather, varying from 50-to 90-degrees.
Brown said the program has received a positive response, adding it was great that Zuccarelli came up with the idea for ZAP because once seniors get to a certain age, they are unable to cut their grass or service their lawns.
"The seniors love it. It gives the seniors a chance as well as the youth a chance to connect. How many times does a senior get to connect with a young person if they don't have any kids around," he said. "And, some of these youth get to connect and communicate with these seniors. The seniors enjoy it and the youth enjoy it."
Thornton Township Supervisor Zuccarelli said while the program helps seniors maintain their property, it is way more than that.
"It provides about one hundred high school students with summer employment opportunities; brings young people closer together with seniors and instills the value and importance of community service," he said.
Zuccarelli said it is his goal for Thornton Township to provide meaningful services to people in need – seniors in need of help and young people who need employment.
"When you look at all the services Thornton Township provides -- people oriented services, that make a real difference -- you realize that we provide great value for very little cost," he said. "In fact, less than ten cents of every tax dollar homeowners pay, goes to the Township for all the services we offer. We are doing way more with less and we will also be refunding a portion of unused property taxes again this year to homeowners. I'm very proud of that."
For more information about the program, call 708-596-6040 ext. 4016, or visit http://www.thorntontownship.com/departments/zap/.
---