Walmart Shoppers Happy Chatham Store Will Reopen Following Looting Devastation
7/8/2020, noon | Updated on 7/8/2020, noon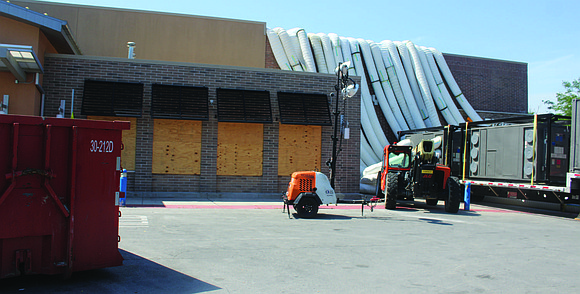 Walmart Shoppers Happy Chatham Store Will Reopen Following Looting Devastation
BY WENDELL HUTSON
Contributing Writer
Many Walmart shoppers said they are happy that the big box retailer has decided to reopen all Chicago stores including one in Chatham despite it being damaged during a week of looting and vandalism last month.
"By the time Black Friday rolls around in November, I'll be back at my local store in Chatham," said Traci Sanders, 44. "I miss shopping there because it's close to my home and plus I live in Chatham and there's nothing like spending your money in your own neighborhood."
For now, Sanders said she travels to Walmart in Pullman, which looters did not damage, contends Ald. Anthony Beale (9th).
"Thankfully, this was not severely hurt like other retailers, like Walgreens. I coordinated with the local police commander to protect the Walmart in my ward," said Beale, who first spearheaded an effort in 2011 to get a Walmart built in Pullman. "I am grateful to Chicago police for securing this store and I look forward to Walmart being a lifelong member of the Pullman community."
Harold Clay, a 68-year-old Park Manor resident, said he went to the Chatham store all the time to grocery shop, but now goes to the Walmart in Pullman.
"I like Walmart because it has everything I need at prices I can afford. I think what these 'thugs' did to stores as a whole was terrible and I hope they get caught by the police," said Clay. "I'm glad to hear that despite a bunch of 'knuckle heads' tearing up the place that Walmart did not forget about the Black community, which quite frankly, keeps them in business in Chicago."
Chatham, as well as many other communities, was crippled by a looting spree, which began on May 31 following peaceful protests for the May 25 death of George Floyd, an unarmed black man, who died during an arrest involving four former Minneapolis police officers.
And now, after the looting, Chatham, like so many other local economies, is slowly rebuilding, said Melinda Kelly, president of the nonprofit Chatham Business Association.
"The looting severely damaged many businesses in Chatham and has made everyday living a big inconvenience when it comes to grocery shopping, banking or simply picking up your prescription from the pharmacy," she explained. "As for Walmart, I think it was a smart move on their part to reopen the Chatham store considering the revenue it received from the community both before the pandemic hit and afterwards."
Ald. Howard Brookins (21st), whose ward includes Walmart, 8331 S. Stewart Ave., said he initially heard the Chatham store might not reopen due to low performance.
"I don't know how true that was, but that's what I heard. At any rate, I welcome the reopening of the store and I value the services Walmart is providing to my community," said Brookins.
Walmart CEO Doug McMillion did not confirm or deny that the Chatham store had been considered for closure prior to the looting. McMillion came to Chicago last month to join Mayor Lori Lightfoot to announce that all Walmart stores now closed temporarily would reopen.
"We have reflected on recent events and decided we want to stay. And not just stay, but expand our investment," said McMillion, in a statement. "We want Chicago to be safe and successful. And we want to be your favorite store. So, we're going to give this another try."
He added that the Chatham store as well as the store in Austin on the West Side would reopen by the year end and all Neighborhood Market locations, such as the one at 7535 S. Ashland Ave., would reopen by the end of July.
The mayor said she would continue working with other retailers to see what assistance the city could provide them, but for now, is happy Walmart has committed to staying put in Chicago.
"We are extremely grateful that Walmart is not only recommitting to our city by reopening all of its Chicago locations, but also expanding its investments even further through innovative programming and services," said Lightfoot. "In doing so, they are reaffirming that Chicago's communities are a great place to invest and grow, and I personally look forward to continuing our partnership and collaboration on these efforts in the months and years ahead."