Top Ranked High School Baseball Player Does More Than Swing A Bat
7/8/2020, noon | Updated on 7/8/2020, noon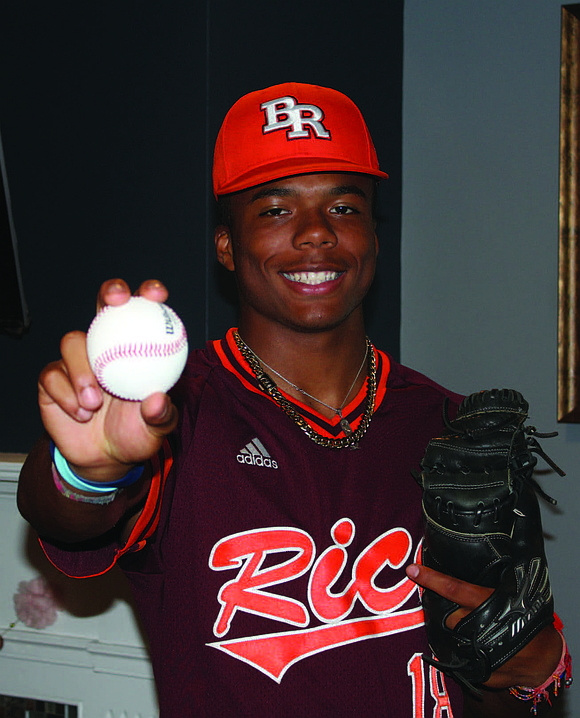 Top Ranked High School Baseball Player Does More Than Swing A Bat
BY WENDELL HUTSON Contributing Writer
Brother Rice High School baseball star Zion Rose is one of the top ranked players in the country as a 15-year-old sophomore, but Rose said he can do more than swing a bat and catch a ball.
When the Beverly resident is not playing recreational sports, he is at home making a few dollars here and there dabbling in online trading.
"That's what I like to do in my spare time when I am not at school or playing baseball. I made $50 just the other day doing day trading," Rose told the Citizen. "I like math and I plan to use it as a career as either an engineer or stock broker, if baseball does not work out."
Due to the COVID-19 pandemic, all high school sports in Illinois were canceled for the school year, so Rose, a Chicago Cubs fan, was not able to play his first season with Brother Rice, 10001 S. Pulaski Road, which would have began in March. The position he plays on the team is catcher and outfielder and during elementary school, won numerous MVP awards at different summer leagues.
"It's unfortunate that the virus derailed the season because I was looking forward to playing on the varsity team this year," he added. "Hopefully, this time next year things will be back to normal and I can officially begin my baseball career with Brother Rice."
Since he was 6-years-old, Rose said he has been playing baseball and said he loves baseball because it is a symbol of accomplishment for him.
"Baseball is therapy for me because it relaxes me and it allows me to exercise my mind and body at the same time," explained Rose, who played football before navigating to baseball. "I think if you have a strong mentality, you can make it in baseball."
Standing 6-foot-1 and weighing 175 pounds Rose, according to Perfect Game, which provides national prep baseball reports, is ranked seventh nationally and number one in Illinois following his impressive summer performance last year as an incoming freshman playing with three Chicago-based teams – and with the Major League Baseball Breakthrough Series' freshman squad last October.
And last year as a freshman player, Rose committed to the University of Louisville. Rose said he is currently playing in a summer tournament league that has allowed him to travel to Alabama, Indiana and Tennessee.
Rose, with a 3.8 GPA, has excelled in the classroom, but more importantly, is a humble and special guy, said Brother Rice Baseball Coach Sean McBride.
"He is very mature for his age and he has a lot of confidence in his ability to play sports, but also does well in school," contends McBride, a former commodities trader. "He has that quiet leadership about him and he understands his role on this team. I think Zion Rose is a special kid that could someday be putting on a major league uniform."
McBride added that Rose comes from a close-knit family and that can make a big difference with how kids eventually turn out.
"You need a supporting cast around you to be successful and Rose has that with his family," said McBride, referring to two brothers and parents Rose lives with in a middle-class neighborhood on the Southwest Side. "As far as I can see, every thing looks in place for him."
But not surprisingly though, Rose's parents, Shaun and Karen Rose, said he is turning out to be the young man they expected.
"What we did was make sure we moved into a neighborhood that was safe because we wanted our kids to be able to go outside and play and not have to worry about getting shot on their own block," explained Shaun Rose. "Zion is self driven, so we did not have to push him a lot because we wanted it to be his choice to play sports."
And with so many young, black teenage boys, getting shot dead in Chicago or arrested by police even if they did not break any laws, Rose's mother said keeping their children involved in activities helped keep them away from trouble.
"All three of our sons have always been active in sports. Zion is a 'thinker' and has played a variety of sports growing up from soccer to football," said Karen Rose. "We felt we needed to keep him busy to keep him focused on something constructive."
Missing an entire season has not discouraged Zion Rose from pursuing his desire to play professional sports someday.
"I am just a sophomore and as long as things are back to normal by my senior year, it will be all good," he said. "Senior year is perhaps the most important year for a high school baseball player because that is when you are drafted. As a mentally strong person, I can handle almost anything that comes my way."