Top Ranked High School Baseball Player Does More Than Swing A Bat
7/8/2020, noon | Updated on 7/8/2020, noon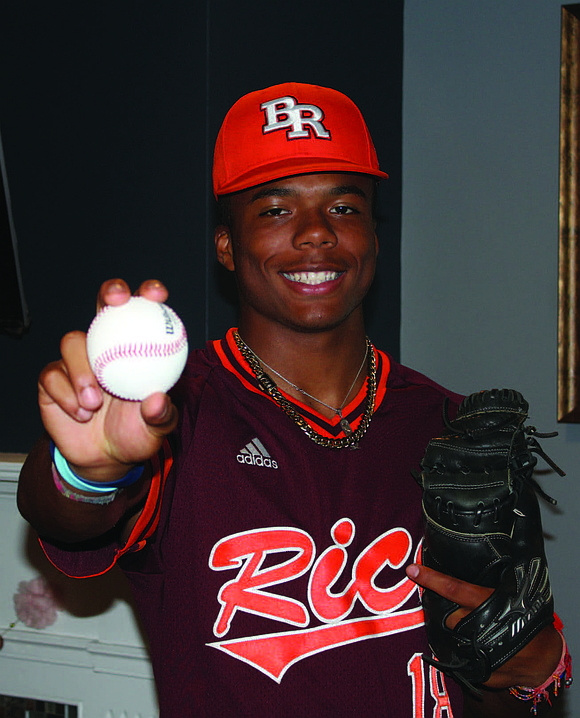 Top Ranked High School Baseball Player Does More Than Swing A Bat
BY WENDELL HUTSON Contributing Writer
Brother Rice High School baseball star Zion Rose is one of the top ranked players in the country as a 15-year-old sophomore, but Rose said he can do more than swing a bat and catch a ball.
When the Beverly resident is not playing recreational sports, he is at home making a few dollars here and there dabbling in online trading.
"That's what I like to do in my spare time when I am not at school or playing baseball. I made $50 just the other day doing day trading," Rose told the Citizen. "I like math and I plan to use it as a career as either an engineer or stock broker, if baseball does not work out."
Due to the COVID-19 pandemic, all high school sports in Illinois were canceled for the school year, so Rose, a Chicago Cubs fan, was not able to play his first season with Brother Rice, 10001 S. Pulaski Road, which would have began in March. The position he plays on the team is catcher and outfielder and during elementary school, won numerous MVP awards at different summer leagues.
"It's unfortunate that the virus derailed the season because I was looking forward to playing on the varsity team this year," he added. "Hopefully, this time next year things will be back to normal and I can officially begin my baseball career with Brother Rice."
Since he was 6-years-old, Rose said he has been playing baseball and said he loves baseball because it is a symbol of accomplishment for him.
"Baseball is therapy for me because it relaxes me and it allows me to exercise my mind and body at the same time," explained Rose, who played football before navigating to baseball. "I think if you have a strong mentality, you can make it in baseball."
Standing 6-foot-1 and weighing 175 pounds Rose, according to Perfect Game, which provides national prep baseball reports, is ranked seventh nationally and number one in Illinois following his impressive summer performance last year as an incoming freshman playing with three Chicago-based teams – and with the Major League Baseball Breakthrough Series' freshman squad last October.
And last year as a freshman player, Rose committed to the University of Louisville. Rose said he is currently playing in a summer tournament league that has allowed him to travel to Alabama, Indiana and Tennessee.
Rose, with a 3.8 GPA, has excelled in the classroom, but more importantly, is a humble and special guy, said Brother Rice Baseball Coach Sean McBride.
"He is very mature for his age and he has a lot of confidence in his ability to play sports, but also does well in school," contends McBride, a former commodities trader. "He has that quiet leadership about him and he understands his role on this team. I think Zion Rose is a special kid that could someday be putting on a major league uniform."