NEW ADDITION TO FOOD HALL SET TO OPEN IN FEBRUARY
1/29/2020, noon | Updated on 1/29/2020, noon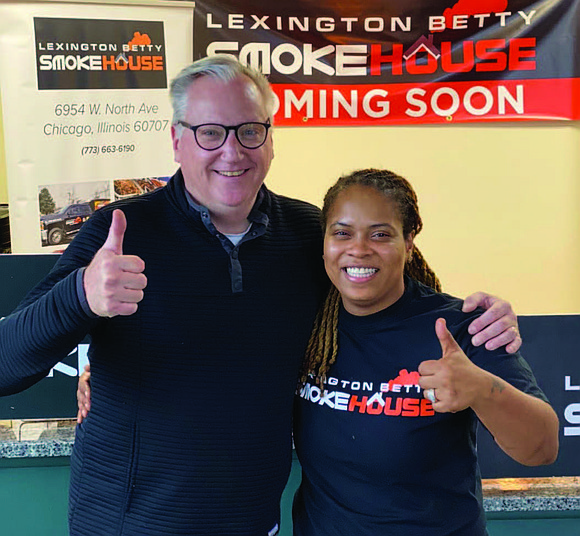 New addition to food hall set to open in February
BY TIA CAROL JONES
Lexington Betty Smokehouse is set to open at One Eleven Food Hall, 756 E. 111th St., on Saturday, Feb. 1.
Dominique Leach, owner, said the opening of the restaurant's second location is part of her short-term goal to open five locations throughout the city.
"I want to prove to myself I can do it," she said. "We have a strong brand. If McDonald's can do it, we can do it, too."
Leach began in December 2016, with a catering business, and six months later, in June 2017, she started Lexington Betty as a Food truck. The West Side location, which is the catering base, was opened on First Sundays as a pop-up. Leach said people would ask when they would be open more regularly. Now, that location is open Thursday-Sunday.
Leach said the One Eleven Food Hall location will offer smoked meats with Soul Food sides. It will have ribs, homemade Andouille sausage, smoked chicken and Loaded Brisket Fries.
"Our Brisket, WGN called it some of the best Brisket in Chicago," she said. "My favorite side is the Brisket baked beans. And, people love our Barbecue Seasoned Fries."
Leach said throughout the years, she has kept a notebook and written down the concept for her barbecue restaurant three times.
"Of course I would open a barbecue restaurant, I've been doodling for more than 10 years," she said.
Leach, who has been a chef for 15 years, was trained in French and Italian cuisine. And she said if she worked in those kinds of restaurants, she would be working for other people, but she didn't want that.
"I want to be proof to other people in our culture, to other women in our culture. I like to be living proof that we can run our own businesses," she said.
Leach also credits her wife with working alongside her, full-time, for the growth and success of the business. She said they are truly partners in the business.
It is Leach's hope that the One Eleven Food Hall location will be a stepping stone to A Lexington Betty Smokehouse storefront in Pullman.
Lexington Betty Smokehouse is the third vendor at the food hall. Laine's Bake Shop and Majani Soulful Vegan Cuisine have been in the food hall since it opened in 2019.
Ryan Territo is vice president of client development at Calibrate Coaching, a hospitality and food service consulting firm that works with One Eleven Food Hall. He said the barbecue is a great new addition because of what it offers.
"It's definitely a larger draw. This gives guests more options," he said.
Territo said after doing an in-depth business analysis and reviewing all the criteria, the firm knew Leach's barbecue concept, as well as her desire to expand, would make her business successful in the food hall. He said, it was also about Leach's energy adding, "she has a draw that brings you in."
He added after trying her barbecue, "we knew it was some of the best in the city. It just seemed like a natural fit," Territo said. "We're super excited to have her."
For more information about One Eleven Food Hall, visit oneelevenfoodhall.com