COOK COUNTY BOARD PRESIDENT TONI PRECKWINKLE AND CALIFORNIA SENATOR KAMALA HARRIS ENDORSE CONGRESSMAN BOBBY L. RUSH IN REELECTION BID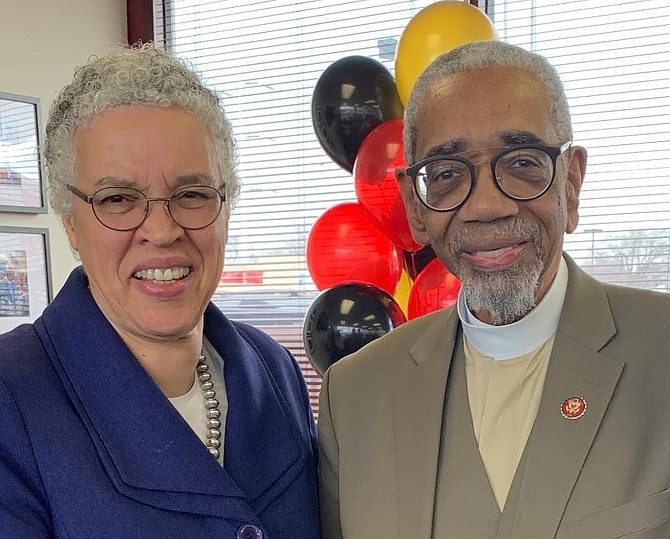 ---
COOK COUNTY BOARD PRESIDENT TONI PRECKWINKLE AND CALIFORNIA SENATOR KAMALA HARRIS ENDORSE CONGRESSMAN BOBBY L. RUSH IN REELECTION BID
Senator Kamala Harris (D-Calif.) put her post-presidential campaign promise to "stay in this fight" into action Monday by endorsing U.S. Congressman Bobby L. Rush (D-Ill.) in his re-election bid to represent residents of the 1st Congressional District of Illinois.
"Since 1993 Bobby Rush has been fighting for the people of Illinois and he has been a national leader on so many issues about giving a voice to our nation's most vulnerable and voiceless," said Sen. Harris in a videotaped announcement presented during the official MLK Day opening of the Congressman's campaign headquarters at 5401 S. Wentworth.
Congressman Rush endorsed Sen. Harris in her bid for the White House. The emerging top contender, surprisingly, withdrew from the presidential race in December due to insufficient funding needed to run a competitive campaign.
Harris, like Rush, launched her presidential campaign on the birthday of Dr. Martin Luther King Jr., underscoring the importance of voting and civic engagement that the slain civil rights leader spent his life advocating for. Cook County Board President Toni Preckwinkle also applauded the Congressman for his life-long commitment to public service, beginning with his role as a prominent figure of the Black Panther Party, later becoming an Alderman for the city of Chicago, and ultimately representing the people of Chicago's Southside and Southern Suburbs.
Congressman Rush welcomed both endorsements in the wake of the Women's March, acknowledging women as the critical electoral force they represent as half of the voting-age population.
"The political prowess of women is undeniable and representation of women in elected office is needed to move our country forward," said Rep. Rush. "History teaches us that vigilance at the ballot box wins transformative victories! Moreover, a record number of women now serve in Congress following the historic two term election of the country's first African American president—Barack Obama. Simply put, when we vote, we win."
"The current administration has brought our nation to the brink of war and has continued to assault the democratic principles enshrined in our nation's founding document. Voters must take a stand now to preserve, protect, and advance the democratic way of life that we revere." continued Rush Rush. "I am prepared and ready to continue to fight for education, jobs, economic development, anti-violence legislation, and environmental protection laws that my constituents both demand and deserve.
Rep. Rush noted that ballots alone are not enough to secure election victories. Dollars are needed to help secure election successes. Congressman Rush opens the campaign fundraising season with $182,299 in donations. The majority of contributions are from Political Acton Committees. For additional voter, campaign involvement, and donation information visit: www.Citizens4Rush.com
---