Design Center opens in Chatham, hosts ribbon cutting ceremony
1/22/2020, noon | Updated on 1/22/2020, noon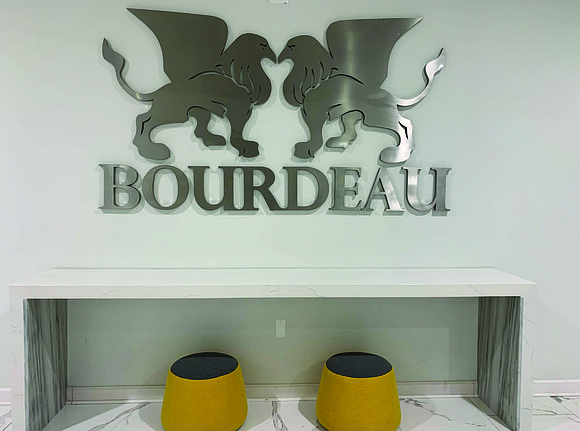 Design Center opens in Chatham, hosts ribbon cutting ceremony
BY TIA CAROL JONES
Frantzie Bourdeau-Griffin wanted a space that could accommodate her interior design showroom, as well as her husband, Gerald Griffin's art gallery, so they found a 46,000 square foot location close to Chatham Market and Simeon High School to house Bourdeau-Griffin Interiors and Architectural Designs, Inc.
"It always has been my dream to have a design center for everybody to find what they need," Bourdeau-Griffin said.
To introduce herself to the community, Bourdeau-Griffin and her husband, Gerald, hosted a ribbon cutting ceremony for the space on Saturday, Jan. 18.
Bourdeau-Griffin, who has been an interior designer for 32 years, had a small showroom on 18th Street. In 2008, she launched Bourdeau-Griffin Interiors with a focus on making luxury interior design more accessible to people.
"I wanted to create a line that is beautiful and sophisticated, but that people could afford," she said.
Bourdeau-Griffin said as an interior designer, it is important to have affordable products. The interior line includes kitchen, bath, lighting, floor coverings and furniture.
She said Cook County Commissioner Stanley Moore suggested they look at the location. They were pleased with the location, as it had parking and a loading dock, but the inside took more vision.
"When I walked in here, the place was disastrous. I said, 'OK, give me some time,'" she said. "I'm designing it in my head. I always have a picture of how it looks done."
Griffin's art gallery houses pieces he has created. Bourdeau-Griffin said it is convenient for them to work together in the same space because they "work together well."
In addition to the art gallery and showroom space, the design center also has a conference room, reception area and salon.
"I don't want this place to be a ghost town. I want people in the community to meet at the design center and have a cup of coffee," she said. "It is a space they can come in that's luxurious enough, where you can feel safe and socialize."
Moore said it has been his mission to bring businesses to the South Side. He said he spoke with developers to find out what it would take for them to bring their businesses to the South Side.
"I have been talking to Downtown businesses and asking them to take a chance to open their businesses on the South Side," he said.
Moore said he is excited about opening Bourdeau-Griffin Interiors and Architectural Designs, Inc. "It's great to welcome such a beautiful facility. It's a mini Merchandise Mart," he said.
He added, it is imperative for the community to support the business. "Now that they took a chance, now the onus is on us to support and embrace them," he said. "You could go anywhere, but we want you to shop at this African American facility."
Bourdeau-Griffin Interiors and Architectural Designs, Inc., is located at 8237 S. Princeton. Hours are Monday-Friday, 10 a.m. to 6 p.m. For more information, visit www.bourdeaugriffin.com, or call 312-273-4932.