Chicago's South Side Was Big Part of the Civil Rights Era
2/19/2020, noon | Updated on 2/19/2020, noon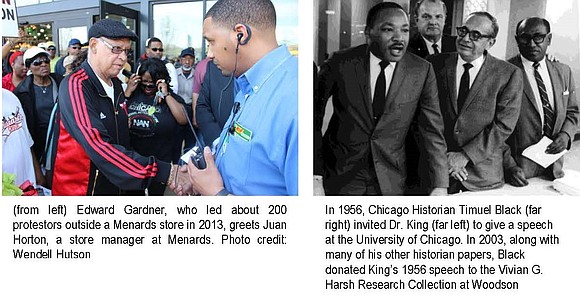 Chicago's South Side Was Big Part of the Civil Rights Era
BY WENDELL HUTSON
Contributing Writer
The civil rights era may have begun in the south, but made its way through Chicago's South Side by way of Dr. Martin Luther King Jr., who delivered one of his first Chicago speeches at the University of Chicago (U of C).
On April 13, 1956, a 27-year-old King spoke at the Rockefeller Memorial Chapel, 5850 S. Woodlawn Ave., after being invited by Chicago historian Timuel Black, who earned a master's degree in social science two years earlier at the University of Chicago.
In 2003, Black donated many of his historian papers, including the 1956 speech King gave at the U of C, to the Vivian G. Harsh Research Collection at Woodson Regional Library, 9525 S. Halsted St.
"We cannot slow up, because we have a date with destiny and we must move with all deliberate speed," King told a standing room only crowd at the chapel in 1956.
In total, King visited the U of C three times between 1956 and 1966 during an era when he received the Noble Peace Prize in 1964, and then Congress passed the 1964 Civil Rights Act. The more King came to Chicago, said Black, the larger his followers became as he preached justice, peace and equality for all.
"We are, in the South, moving from a negative peace, where Negroes accept a subordinate place in society, to a positive peace, where all people live in equality," King said on Oct. 25, 1959 during a Sunday worship service at the chapel.
King's last U of C visit was on Jan. 27, 1966, one day after he moved his family into a West Side apartment building. The 39-year-old Baptist preacher was shot dead by a lone gunman while in Memphis, Tenn. with other civil rights leaders including the Rev. Jesse Jackson on April 4, 1968.
That day changed Black America forever said Black, a 100-year-old Washington Park resident.
"Things were never the same in America for blacks after King was killed," contends Black. "This man stood up for 'us' and he died for us too and that is something black folks will never forget."
Black helped organize marches and protest demonstrations for King when he visited Chicago, and said he did so because he believed in his message of hope. And on Aug. 28, 1963, Black, a Chicago teacher at the time, was among the 250,000 people that stood in the mall in Washington, D.C. to hear King's famous "I Have A Dream" speech.
"I was impressed that a young, black man cared enough about us black folks to speak out against injustices even if it meant becoming a 'target' by whites," recalled Black. "His courage and determination to see justice at any cost was remarkable and really inspired me to want to become apart of his movement for change in America."
But even with all the accomplishments King made in Chicago and around the world, Black pointed out some lingering issues that remain a challenge today like housing.