NBA FAMILY TO ENGAGE TENS OF THOUSANDS OF YOUTH AND MORE THAN 40 COMMUNITY-BASED ORGANIZATIONS ACROSS CHICAGO AS PART OF NBA ALL-STAR 2020 OUTREACH EFFORTS
2/12/2020, noon | Updated on 2/12/2020, noon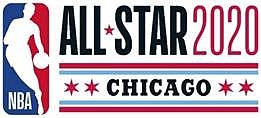 NBA FAMILY TO ENGAGE TENS OF THOUSANDS OF YOUTH AND MORE THAN 40 COMMUNITY-BASED ORGANIZATIONS ACROSS CHICAGO AS PART OF NBA ALL-STAR 2020 OUTREACH EFFORTS
As part of NBA All-Star 2020, members of the NBA family will support tens of thousands of children across Chicago's neighborhoods through programs and events tipping off on Wednesday, Feb. 12. Together with Chicago Public Schools and more than 40 community-based organizations, including Center on Halsted, Greater Chicago Food Depository, City Year Chicago and YWCA Metropolitan Chicago, the NBA's programs will focus on promoting physical and mental wellness, teaching the values and fundamentals of the game, creating spaces for open dialogue and mentorship, supporting those in need and empowering the city's next generation of leaders.
The week-long efforts will be highlighted by the first-ever NBA All-Star Youth Leadership Council, a group of 20 high school-aged young people from throughout Chicago that first convened in November 2019 in partnership with the Chicago Bulls, After School Matters, Chicago CRED and Youth Guidance. The students, who have met weekly in small groups to research challenges impacting their neighborhoods and collaborate on solutions, will present their perspectives and vision for change through five youth-led community projects for the first time at the NBA Voices Youth Summit on Thursday, Feb. 13. Together, these projects, which will come to life in the coming months, will empower the youth leaders to help shape the impact and legacy of NBA All-Star 2020 and effect change in their communities.
As part of the new NBA All-Star Game format change announced last month, every quarter counts for Chicago-based charities, with Team LeBron and Team Giannis playing for Chicago Scholars and After School Matters, respectively. At the conclusion of the first three quarters, $100,000 will be awarded to the leading team's selected organization - $300,000 for those three quarters. The remaining $200,000 will be awarded to the team's organization that reaches the Final Target Score first in the untimed fourth quarter. If one team wins each of the first three quarters and reaches the Final Target Score first, $500,000 will be donated to the winning team's charity and $100,000 will be donated to the losing team's charity. Both organizations will attend NBA All-Star Practice & Media Day presented by AT&T in addition to the All-Star Game and will participate in special in-arena experiences.

Along with members of the Youth Leadership Council and the beneficiaries, hundreds of youth from across Chicago's neighborhoods will enjoy a once-in-a-lifetime experience at NBA Rising Stars, State Farm® All-Star Saturday Night and the 69th NBA All-Star Game. In total, more than $1 million will be contributed to local organizations during NBA All-Star 2020 through NBA Cares community outreach efforts.

NBA Cares All-Star Community Events Schedule:
Below is a list of the NBA Cares, NBA Voices and Jr. NBA events and activations taking place Wednesday, Feb. 12 – Sunday, Feb. 16. In addition to the league's events, current and former NBA players, partners and members of the NBA family will engage youth, families and neighborhoods through dozens of events across Chicago.