MWRD incumbent passionate about the environment
2/12/2020, noon | Updated on 2/12/2020, noon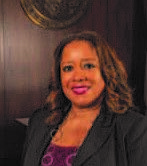 MWRD incumbent passionate about the environment
BY TIA CAROL JONES
Kimberly Neely du Buclet considers herself an environmentalist.
Her interest in environmental issues began while she was a state representative. During that time, representing the 26th District, she received an A+ rating from the Illinois Environmental Council. She consistently voted with the environmental caucus.
Now, Neely du Buclet is a commissioner at the Metropolitan Water Reclamation District of Greater Chicago (MWRD)and she continues to spread awareness about environmental issues. "We're one of the largest environmental agencies in the state," Neely du Buclet said.
Neely du Buclet is one of three incumbents running for commissioner of the MWRD. There are eight Democrats running against them, which include Heather Boyle, Mike Cashman, Eaira Corral Sepulveda, Deyon Dean, Patricia Theresa Flynn, Michael Grace, Shundar Lin and Kisha McCaskill. On Tuesday, March 17, voters will have to choose three candidates to elect as commissioner.
Neely du Buclet focuses on policy and educating residents on what the Metropolitan Water Reclamation District of Greater Chicago does. She serves as chairman of the federal legislation and stormwater commissions.
She said it is important for residents to know climate change is real. She wants to educate them about how to mitigate climate change and how to make the environment safe and clean.
And, Neely du Buclet said her favorite part of the job is speaking to young people about STEM and careers in STEM.
"I also enjoy speaking to constituents about the environment and the role we play in protecting the environment," she said.
Neely du Buclet said her work at the Chicago Park District as the legislative and community affairs director helped her to understand the critical role greenspace plays in helping the environment.
"It helps us to address the challenges we face to address stormwater issues in Cook County," she said.
Neely du Buclet said one of those stormwater issues includes seeing what are known as 100-year storms more frequently.
"Now, we're seeing them every year. We're having much more intense rainfall in a much shorter time," she said.
More water, more frequently in a shorter time period, along with an aging infrastructure, leads to flooding, something Neely du Buclet knows about from her childhood. She said flooding is very personal to her because her childhood home flooded.
Neely du Buclet stressed the importance of continuing to invest in communities on the South and West Sides. One of those investments is a $12 million Robbins Stormwater Park Project to address flooding in the suburb in the Southland area. Its goal is to manage stormwater, create green infrastructure and improve tunnels and reservoirs. It would include a solution to stormwater issues, with attention paid to wetlands, lakes, parks and playfields.
Neely du Buclet said there is also a continued investment in Space to Grow. Space to Grow transforms school playgrounds into green playgrounds that capture rainwater and stormwater and reduce flooding in the neighborhood. Space to Grow's capital funding partners include MWRD, as well as Chicago Public Schools and Chicago Department of Water Management.
One accomplishment Neely du Buclet is proud of is the addition of an Inspector General for MWRD. She said the addition created transparency for citizens of Cook County.
Neely du Buclet said addressing flooding and stormwater management are part of economic development.
"We have to mitigate that flooding so businesses will invest in those communities," she said.