Memoir details life, love and career
2/12/2020, noon | Updated on 2/12/2020, noon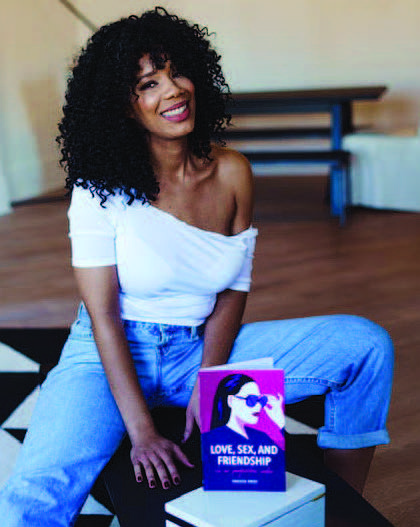 Memoir details life, love and career
BY TIA CAROL JONES
Farissa Knox knew that she was a good storyteller. One day, after telling a story, someone told her she should write a book.
Knox, who is the founder and CEO of RLM Media and founder and CEO of What R U Wearing Productions, took heed and published a memoir, "Love, Sex and Friendship: In No Particular Order."
The memoir follows Knox as she navigates career and relationships in her early 20s, living in New York then moving to Chicago. Knox described writing the book as a journey and an adventure and it became more of a personal obstacle.
"Once I started, I just had to finish," she said, adding when she realized that, she didn't need outside sources to push her, rather Knox said she pushed herself.
She said she learned she could tell and write really great stories. She had just moved from New York to Chicago when she wrote the first iteration of the book. It was a diary that took six months to write.
"It was a fun, therapeutic way to get through my first Chicago winter," she said.
Knox said she wanted to focus on her early adult years, which she said, "seemed like an entire lifetime ago." She said as she looked back, she realized something.
"Man, I've done like a ton and I'm only 20-something. Now, at 38-years old, I'm living a very different life," said the wife and mother of two. "As a woman, we evolve into so many different versions of ourselves."
So, she had the premise of the memoir, but she needed a title.
"I said, 'what are the things that matter in your 20s? Love, sex and friendship.' But not in that order," she said.
Knox said as she started to write, things started to come to her. "I was able to add in detail I hadn't thought of since I was in my 20s," she said. "There were things that happened that I wouldn't have ever remembered if I hadn't written that in a book." Knox said while she wanted to be truthful, she wasn't sure if she could be vulnerable.
"There were parts where I was like, 'oh my goodness, am I sure I want to write that down?,'" she said. "I wasn't sure if I was comfortable with feeling so vulnerable."
She said she knew, in the end, if she didn't get comfortable telling her truth and being vulnerable, the story wouldn't be as good.
"I had some fear, 'are the other folks in my story going to appreciate this?,'" she said. "I can just stick to the truth and let that be the guide."
When it comes to what she left out, Knox said she purposely strayed away from intensely describing her sex life.
"I didn't want to disrespect my parents," she said. "I found myself wanting to make sure the people who matter don't feel offended."
She did, however, write about the first time she and her husband were intimate. She said she wrote about it with intensity and thoughtfulness.
"This is the last time I'm having sex with someone for the first time," she said.
Knox said it is her hope that people see that experiences of life, career and navigating relationships are not unique to one individual. And, that readers feel a sense of connectivity and community to others through the book. She said she hopes the young women and young people get a sense, "that they're not alone in the things they're trying to figure out," adding, "I hope it helps people feel better about their day-to-day relationships."
"Love, Sex and Friendship: In No Particular Order" is available at www.amazon.com. For more information about Knox, visit farissaknox.com.