SISTERS OPEN SECOND LOCATION OF POPULAR PRIMA LASH
12/30/2020, noon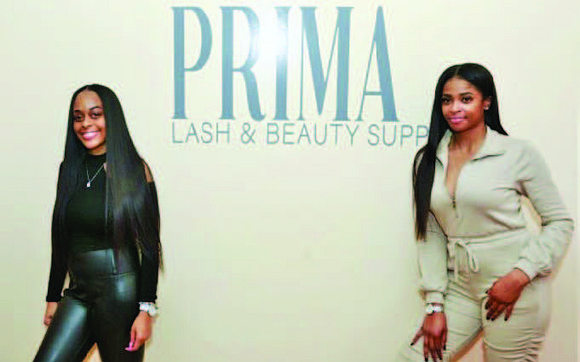 Sisters open second location of popular Prima Lash

BY TIA CAROL JONES
     Whitney and Diamond Cumbo opened their first Prima Lash & Beauty Bar, located at 754 W. 35th St., in 2019. Now, they are set to open their second location in 2021.
     Prima Lash & Beauty Supply, located at 755 W. 35th St., is across the street from the first location and will offer African American hair care products.
     Whitney said they wanted to open their first location because they wanted to do something in the beauty realm. Whitney decided in college that she wanted to take a lash class so she could have residual income and have something that could create generational wealth for her family.
     Diamond always knew she wanted to be a part of the beauty business. Before Whitney taught her how to do lashes, she did hair for two years. "I've always been a beauty industry girl. I'm a super girly girl. I like to play in makeup and dress
up. So, I'm very attuned to beauty and cosmetics and fashion," Diamond said.
     It is a full-service salon with eyelash technicians, nail technicians and hair technicians, as well as estheticians and makeup artists. "It really just took off. We picked the location,
we just wanted to be in a very nice upscale location, just to give our clients an upscale experience," she said.
     Whitney said opening the second location, with a beauty supply happened because they knew people would come in for service and want some of the products.
     "People were traveling out of the community to get the products, so we said, "why don't we just bring it to our community, for our people,'" she said.
     Whitney said it is very important for young Black women to become entrepreneurs because she wants other young girls to know it is possible to be a Black woman and an entrepreneur.
     "Anything you put your mind to, you can do it. And, I just wanted to be that example, because it's one thing to say it, but
it's another thing to be it and to show it," she said. "I wanted to show young children, you can do it, don't let anything deter you."
     Diamond said due to COVID-19, they had to pivot by social distancing in the beauty bar, shutting down when they were
told to shut down and the shop was constantly disinfected.            Whitney said the COVID-19 pandemic really hit them because they were used to being open and serving clients.
"It really slowed us down, so we had to do things to
make sure we were still getting income, while following the guidelines," Whitney said.
     One of the things they did was offer products online.      Another thing was to move the classes they provide online. Business, storefront launch and lash classes were moved online.
     "We just really went back to the drawing board,"
Whitney said.
     Diamond said opening up a second location in 2021 feels amazing. "With the pandemic, with so many people being laid off work, which slowed down our income, it's an amazing feeling for sure, it's definitely a blessing to be opening
up a second location," she said. "We're definitely thankful for the support, we appreciate it all. It just feels liberating for sure."
    For more information on Prima Lash & Beauty Bar,
visit primalashandbeautybar. as.me.