BLACK-OWNED, WOMAN-OWNED PEST CONTROL COMPANY MAKES MARK
12/9/2020, noon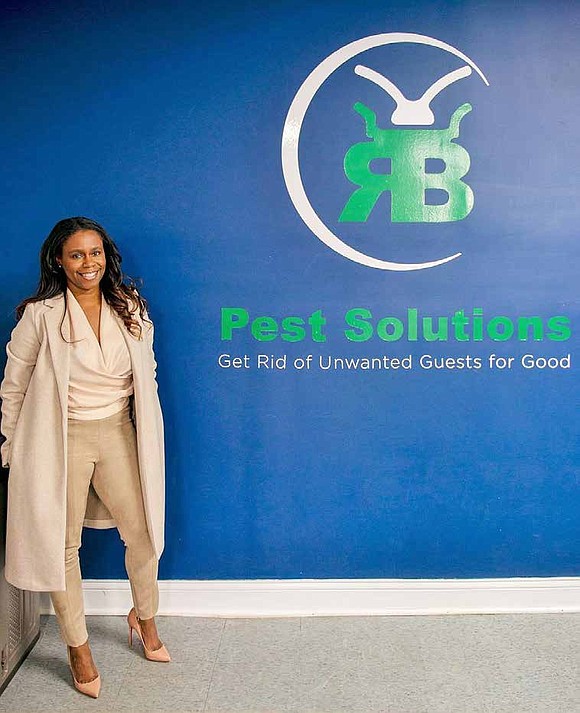 Black-owned, woman-owned Pest control company makes mark

BY TIA CAROL JONES

     For Robiar Smith, pest control is a passion. It is a profession she learned from her father, who was in the extermination business. Smith is the CEO of R.B. Pest Solutions, located at 8243 S. Cottage Grove.
     Smith started her career as an IT professional and professor. Then, decided she wanted to start her own pest control business, which she described as a full circle moment.
     "Extermination has been in my DNA for the past 41 years," she said. Smith said while she was a professor, she was teaching classes on entrepreneurship. She said she was helping many students create business plans, target marketing.  She said while she was pouring into the students, she realized she could run a
business using her knowledge.
     Smith said she took the pest control exam a couple times, passed in 2016 and R.B. Pest Solutions has been around ever since.
     Smith said while pest control is a male-dominated business and it has been a challenge, it has its advantages as well.
     "It has allowed me to change the face of pest control, and who can be in it and who can do it and who can own it. The challenge is the most exciting part of it, it's how can we take this industry that is male-dominated and say, hey women can run successful million dollar companies, women can actually go out and do a bed bug job
and a raccoon job," she said. "It's been refreshing to see someone, a Black woman, run a company, and get rid of your bedbugs at the same time. I can do both, don't box me in."
     Smith said people are really in awe. She said she's also changing how technicians show up. Get rid of the image of a middle-aged guy with a tank in his hand. She said most of her staff
are young and fresh, and she makes it a point to hire from within the community.  For her, she said, it is about legacy. She added, with his experience as an exterminator for more than 40 years, her dad Michael Benton, knows the city inside and out.
     "I get an opportunity to bid on these contracts and I feel like I'm standing on my dad's shoulders. Because this was something that's been in the make up for 41 years. So, many people know his name and I've been able to carry the torch," she said.
     Smith's father Benton has also trained other exterminators, who have gone to work for other pest control companies. Smith said all of the new staff that come into R.B. Pest Solutions are trained by her father. She likes to say, "we're not businesspeople that got into extermination, we're actually exterminators that got into the business. So, we really take it serious this extermination thing."
     Currently, there are 27 employees and they are expanding. Smith said
R.B. Pest Solutions is set to open two more locations. She said R.B. Pest
Solutions is the only exterminating company that has a retail shop attached
to the business.
     "We're going into the communities and not only can you come to us for pest control services, but you can actually come shop. We're in the do-ityourself
generation, where we'll walk you through how to do extermination
yourself in between services," she said.
     For more information, visit rbpestsolutions.com.