EXHIBIT EXPLORES HOW YOUNG BLACK PEOPLE NAVIGATE CITY
8/19/2020, noon | Updated on 8/19/2020, noon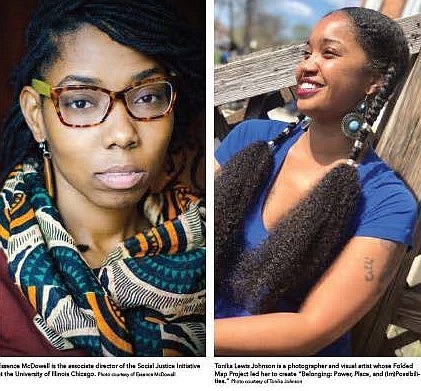 EXHIBIT EXPLORES HOW YOUNG BLACK PEOPLE NAVIGATE CITY
BY TIA CAROL JONES
Tonika Lewis Johnson is the creator of the Folded Map Project, a visual investigation of the inequity and disparity of the North and South Sides. In that project, Johnson has the residents, who lived on the same streets with similar addresses on different sides of the city, meet each other and talk about race, the city and segregation.
Now, Johnson is set to debut 'Belonging: Power, Place, and (Im)Possibilities.' It explores the racial profiling that Black and Brown teenagers experience. It will debut at the Social Justice Initiative's Chicago Justice Gallery, located at 1344 S. Halsted. To learn more about the time and date of the debut, visit tonikaj.com
Johnson said 'Belonging,' is an extension of the Folded Map Project and is a collection of stories and experiences where Black and Brown teenagers have been made to feel like they don't belong. She said the teenagers came to the Folded Map Project exhibit and she talked to them and shared her stories about growing up in Chicago and traveling throughout the city to socialize with friends.
"They consistently told me that they don't really do that. They don't really go to a lot of different neighborhoods and when they do, they don't feel comfortable. It was so different from my teenage years in Chicago in the '90s. I never thought about how the experience of being a teenager in a city changes," she said.
Johnson said the young people told her they felt more policed, with loitering laws and curfews. She said she got curious about their experiences.
"It directly connected to Folded Map because regardless of where these teenagers were coming from, North Side, South side, all of them had a similar story," she said. I want to do something to capture the stories of these teenagers because they're going to be our future Chicago residents, if they decide to come back after school. How you get treated in a city as a teenager, really could influence if you want to stay there or not."
Johnson said it took from 2018 to 2020 to put the project idea together, implement the idea and identify the teenagers she wanted to talk to. She went through Teens Reimagining Art, Community, and Environment, solicited her daughter's friends and put out a call to get teenagers to share their stories.
Essence McDowell is the associate director of the Social Justice Initiative at the University of Illinois Chicago. The Social Justice Initiative is a small arm of the University of Illinois Chicago and its aim is to bring the campus community with city-wide communities together to build a bridge between scholarship and activism. "Belonging" is the inaugural exhibit of the Social Justice Initiative's Chicago Justice Gallery.
McDowell said it is eerie the way the project has increased in importance in this moment, with marches and protests and civil unrest. Social Justice Initiative, in preparation of the exhibit, had an artist create a mural that represents "Belonging."