ARTIST DRAWS ON COLLEGE EXPERIENCE FOR EXHIBIT
8/12/2020, noon | Updated on 8/12/2020, noon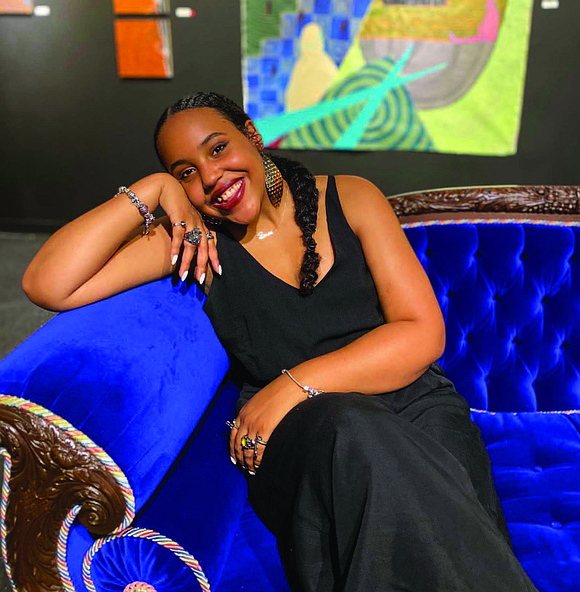 Artist draws on college experience for exhibit
BY TIA CAROL JONES
In Sage Smith's first solo art exhibit, "The Barriers That Create Us," she explores the act of mindfulness that comes from the repetitive motions and line work in pattern making.
All 16 pieces were made with the show at Connect Gallery, in mind. The gallery is located on 1520 S. Harper Court.
Smith said the experience was really different for her because she was able to create whatever she wanted. Smith said that feeling of freedom was very exciting. She added she revisited a male character she has been drawing since high school and said the character cropped up as a theme.
The concentration of the show she said, sort of became more about the environment, space, what are the barriers and lines that create and form us, and who are we as a product of our environments.
Smith said the man she revisited followed her and became her avatar for expressing how she felt in certain spaces. She said he definitely started off as a lot more melancholy, which is how she felt in certain spaces. "I went to a predominantly white school, so he became sort of my character who could express some of the emotions I wasn't allowed to feel in those spaces because you have to be "on" in a sense, so he became that voice for me," she said. "It kind of switched when I went to college and I started feeling a lot more joyful, but also a little bit more at peace. So, he became a sort of peaceful guide in a chaotic environment." Smith said his language has changed throughout the years as she has changed. She added her time at the Maryland Institute College of Art formed the way she does art.
"For the first time, I was surrounded by artists. Maryland Institute College of Art is a predominantly white institution, but I found a core of artists who look like me. So, that was a different element. They all push you, you work off of each other. You find, not like a group, but a community of people who really start to understand you, what you want to say and help you move in that direction. I really felt a lot of support from my peers in that environment, which was very important to find as an artist," she said.
Smith said the community she found at the Maryland Institute College of Art pushed her to new heights and without it, she wouldn't have been able to think, conceive or finish her show.
Smith went on to say that she was hoping the show would make people feel a variety of different emotions because the work does not have the same mood, she said. On one side, the work is completely black and white. "On the other side, it's vibrant and colorful, full of pinks, blues and purples," she said, adding she didn't want people to come in and just be depressed or just happy.
Smith declined commissions for Black Lives Matter related work. She said she did it because she noticed some things. "Especially at art institutions where Black creatives are sort of pushed to make work about their traumas and their experiences and it seemed like you're supposed to educate people about that, that's your duty as a Black creative," she said. "But I view our duty as Black creatives is to be free, to just create," adding she's moved away from making art that is inherently political.
Relaying a quote she heard by Fabiola Jean Louis who said, "The act of a Black woman sitting peaceful is revolutionary,'" Smith added she started to make work that she felt "peaceful with and that in itself was revolutionary." She continued, "That I could just make work about whatever and it be a revolution in itself. I began to move a little bit further away from sociopolitical work, but that in itself was sociopolitical."