FOOD PANTRY PIVOTS DURING COVID-19
4/15/2020, noon | Updated on 4/15/2020, noon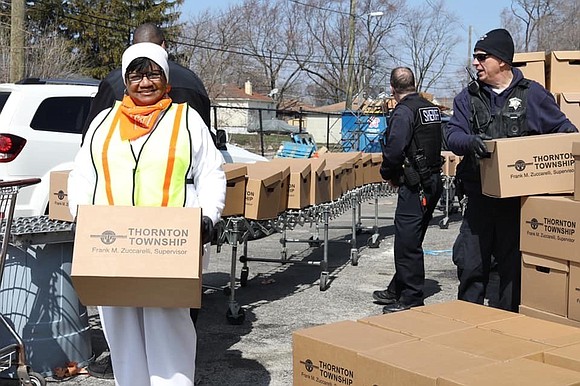 Food pantry pivots during COVID-19
BY TIA CAROL JONES
Local food pantries have seen an increase in the number of people who need their resources during the COVID-19 outbreak and food pantries are having to change the way food is distributed.
Thornton Township Food Assistance Center, located on 15340 Page Ave., in Harvey, Ill., is one of the food pantries that has had to change with the times brought on by the global pandemic.
Ernst Lamothe is the community relations manager for Thornton Township. He said the food pantry program has been going on for years in the township, from 9 a.m. to 4 p.m. on each Wednesday. In the past, people were able to do drive-up service or go inside to get a food bag, he said.
"On an average, we served about 400 families each Wednesday. Then, the pandemic happened and over the last couple of weeks that number has jumped to 2,100," Lamothe stated.
"And now, we're doing only curbside, where people can drive through to our facility in their car. And, our staff, as well as the Cook County Sheriff's Office," is helping to load the boxes into people's cars, he added.
Thornton Township consists of 17 different communities in the South Suburbs and represents more than 180,000 residents.
Lamothe said his boss, Thornton Township Supervisor Frank Zuccarelli, does a good job of thinking a couple of steps ahead. So, not only was the Thornton Township Food Assistance Center getting food from the Greater Chicago Food Depository, they would also use the funds to get food from Walt's and other grocery stores and buy in bulk.
"We're always thinking several steps ahead. We were shocked at the numbers jumping up so fast. We've been able to accommodate them every week so far," Lamothe said. "We've had great donations from Walt's," he said, who offered gallons of milk as well as other organizations who are making donations.
Lamothe said at 9 a.m., it is common to see four blocks full of cars lined up to get a food bag. He said they were shocked by the number of people because the township did not advertise.
The food boxes include a combination of perishable and non-perishable items including cans, spaghetti, bread, milk, chicken and juice.
Lamothe said the food pantry shows the importance of township government.
"Sometimes you don't know what you need until you need it," he added. "And, this is kind of shown with the numbers jumping up, that if not for us, a lot of people wouldn't know how to feed their families. A lot of people wouldn't know where to go for some of these services," he said.
Zuccarelli said it shows the reach of township government. "We've heard a lot recently about how township government is antiquated and should be done away with," he added. But Zuccarelli said what the township is experiencing now is an example of how township government is on the "front lines," he said, and "providing meaningful help to families in need."
The township has a responsibility to help people, Zuccarelli added, "and we're meeting that charge every day," he said.
For more information about the Thornton Township Food Assistance Center, call 708-596-6040 ext. 3180, or visit https://bit.ly/2Vayh2l.