HELPFUL TIPS TO STAY SAFE ON THE INTERNET
4/8/2020, noon | Updated on 4/8/2020, noon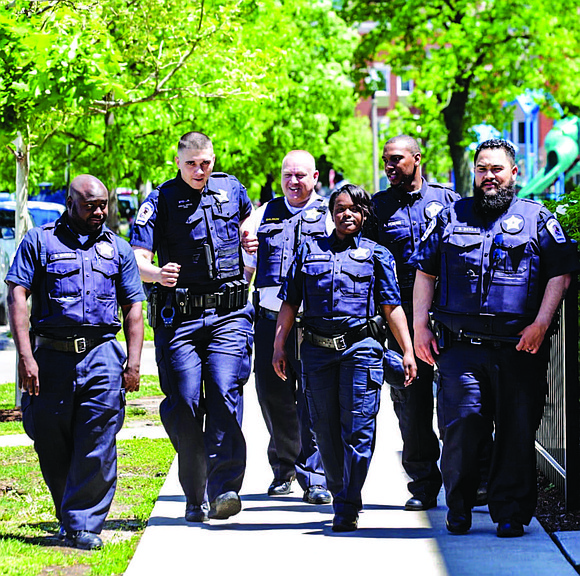 Helpful tips to stay safe on the internet
BY TIA CAROL JONES
Many workers have been given the option of working from home during COVID-19. While working from home and using the internet can be convenient, there are some safety measures to keep in mind.
Always Giving Back (AGB) Innovative Security Solutions is a black-owned security firm based in Chicago. John Griffin is the CEO and co-founder of the company, along with his wife, Dr. Denitra Griffin. Arba Houlden is the COO of AGB. Both Griffin and Houlden provided some useful tips to keep those working from home safe while using the internet.
One thing Houlden said a person should do is to change the wi-fi network password, as well as the username and password on the router.
"The first thing you should do is make sure that the username and password are something only you know. The second password change you want to make is on your wi-fi network," he said. "Typically, you'll get a router and the username will be admin or administrator. And, the password will be something like 'password' or the numbers one through eight. Those are very commonly used out-of-the box passwords."
Griffin said people should make sure the password is very strong and not something common. He recommended having a mixture of upper case and lower case letters as well as using special characters. He said he also recommends writing a sentence to a song. Houlden said while some systems limit users to implementing special characters, he said you want to make it as strong as possible.
Houlden added another technical aspect of internet security is updating the router. He said that is not something that typically gets updated, but Comcast Xfinity does provide updates through its Xfi, which allows users to have more control over the wi-fi network.
"Others who don't use Xfinity may not have that and they may want to make sure they speak to their internet service provider to ensure that their routers are updated with the latest firmware," Houlden said. "It's very critical because out-of-the box is common. So, when it's common, they're vulnerable to folks who are trying to access the network."
Griffin said safety is also important when visiting certain websites. "Make sure the sites they're visiting are safe, with https, which S is for secure," he said.
Houlden also agreed it is important to make sure the website is https when sharing personal information such as phone numbers, addresses and social security numbers. "You want to make sure that at the top of the right-hand corner it says 'https,' " he said. "You're entering information into the ether and anybody can get it. We trust that. That's the trusted way to use the internet."
Houlden and Griffin also suggested to make sure computers have desktop security, like Norton 360, McAfee, Webroot and Semantics.
"Those are all packages that help try to thwart things from being introduced to your computer. It's important to have those," Houlden said. "Out-of-the box is the theme here, if you buy it, it's good that day, but things happen. Hackers get smarter. Those definitions need to be updated. The manufacturer always give[s] you definitions every 30 days, so it's important to update those definitions," he said.
Houlden said people should update their computers and advised not ignoring notifications to do updates. Even if you're doing something at the time you get a notification to perform an update, doing them is important, he said. "You have to do it. There's a lot of vulnerability threats [that] are thwarted by way of these updates. What typically happens is in your lower right-hand corner, you'll get some icon that says updates are available, you have to do it," he stated.
Griffin said you also can have the updates occur automatically, which can take the worry out of manually having to update the computer. "These hackers are so far ahead of us that we [are] always backtracking and trying to get ourselves in [a] position to catch up to what they are doing," he said.
Houlden said you should not only have a strong password for emails, but also enable multi-factor authentication. "Multi-factor authentication ensures that you, the user, is logging in. So basically, you'll have your strong password, but what the system will do is reach out to you in a second way," he said. "So, when I log on to my email from a system that it is not familiar with, it will text me a code and it comes to my phone and I give the system the code, then I can get my email. However, if I don't give the code, then I'm not allowed access. Multi-factor [authentication] is very important in helping combat cybersecurity in the home."