Pullman Community Center provides athletics and academics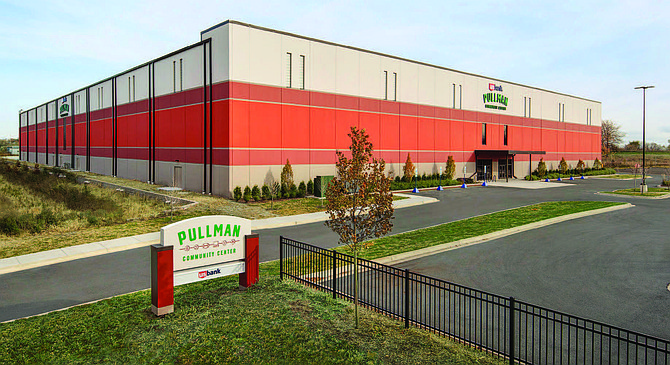 ---
Pullman Community Center provides athletics and academics
BY TIA CAROL JONES
The Pullman Community Center has become an important fixture in the year and a half since it opened. It began with a vision from 9th Ward Alderman Anthony Beale to build an indoor baseball facility, but the vision later mushroomed into the center it is today.
Located on 10355 S. Woodlawn, the Pullman Community Center boasts of three hardwood courts, three turf fields and four batting/pitching cages.
Beale said while the goal was a sports facility, he made sure the educational component was there too. And that was important Beale added because when you look at the athletes, sometimes they struggle in school.
Enter Silas Green and the 530 Scholars, a group with the mission to get students in the top five percent of their class and to get a 30 on the ACT through education programming.
"We really didn't realize how fortunate we were and what an amazing program it is.
His passion, Silas, is that's he's been there everyday, is to be able to teach kids in our community," said Kristin Curtis, general manager of the Pullman Community Center.
"It feels like a big family," she said "because of the relationships we've built, with people like Silas, or HERO, that's [the] football program that we have there, we have that common mission of keeping the kids off the street."
HERO is a flag football program that operates at the Pullman Community Center. Students in the program are also connected to Green and the 530 Scholars program. That partnership was instrumental in getting all of the seniors a full ride athletic scholarship.
"I have to credit partner organizations we've met and the relationships that we've built with them," Curtis said, adding it doesn't feel like just a business relationship. "We all have this common goal of having fun," she said and helping people and giving kids a standard of excellence.
"It's just wonderful that the kids can come in there, they see someone like Silas Green, who's strong academically, you see Alderman Beale is in there, as the president of our organization and the visionary behind it, and Judge Bates who's the chairman of our board," Curtis said. "So, these kids see politicians, they see judges, they see athletes, positive African American males. These kids are walking around and they're seeing what they can be as well."
Curtis said making sure the community is involved in programs at the center was always important. The center has a director of community programs to make sure the programs are a form of outreach to residents.
"We don't get any city, state or federal funding for operations. So, in order to pay those bills, we have to charge people, but we want to be sensitive, we want the community to be able to come in here and use it," Curtis said. "We started Feel Good Fridays, we have open-play volleyball for $5, we have line dancing for $5.
People can watch basketball on two courts, volleyball on another, and you've got the line dancing and the music."
Beale said he is proud of Pullman Community Center.
"I think we really are proud of what we've been able to accomplish and the direction we're going [in] is phenomenal," Beale said. He added they now have national attention, with a partnership with the AAU. Thats because "we're doing something different and we're doing something special," he said.
All of this falls into the renaissance Pullman has experienced in the last few years, with the opening of Walmart, renovation of the Pullman Historic District and the opening of the Pullman Community Center. Beale said it all comes from a holistic standpoint.
"We want to create jobs and opportunities,"
Beale said, adding he thinks the industrial businesses they're bringing in are adding opportunities that put people to work and that all brings crime down in the ward.
Creating jobs, opportunities, creating a place for people to go and shop where they don't have to go outside the community, "all these things go hand-in-hand," Beale said.
"We're also addressing the housing stock, we're rehabbing homes, we're putting people back in those homes. So, we're giving them a job, we're giving them a place to live and we're giving them a place to shop. What was missing? A place to go and play," he said.
Beale said the vision blossomed into something more than he ever could have imagined and Curtis said it is something she is proud of. It's a safe, clean place for the community, she said.
"I'm grateful, I'm personally so proud. I have wonderful childhood memories from this area.
We have something to be proud of," Curtis said. "I love the development that they're doing over there. Between Alderman Beale and the Chicago Neighborhood Initiative, they're doing some amazing things over there."
For more information about Pullman Community Center, visit www.pccindoorsports.com.
---