UPS's Guy Albertson serves as chair for the QCUL fundraiser "A Toast to the Future"
Congresswoman Lauren Underwood lends her support to annual gala benefitting the Quad County communities
10/23/2019, noon | Updated on 10/23/2019, noon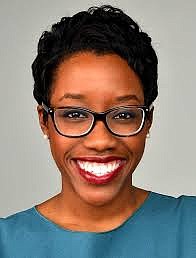 UPS's Guy Albertson serves as chair for the QCUL fundraiser "A Toast to the Future"
Congresswoman Lauren Underwood lends her support to annual gala benefitting the Quad County communities
Guy Albertson, president of UPS CACH operations is serving as chair of this year's Quad County Urban League (QCUL) Annual Equality Gala "A Toast to the Future" on Saturday, October 26th at the Chicago Marriott Southwest Hotel. The black-tie fundraiser supports the organization's core values of racial justice, civil rights, and economic empowerment. Joining the QCUL for this year's event will be Congresswoman Lauren Underwood (D-IL 14 District).
The Gala brings together people of various ethnic, cultural, and professional backgrounds to raise awareness and funds to support the mission, programs, and services of the Quad County Urban League. The mission of the QCUL is to help secure opportunities for all disadvantaged persons and people of color, including women and persons with disabilities. Funds raised at the 2019 Annual Equality Gala support the programs of the QCUL which encompass education, workforce development and building strong communities. Additionally, a portion of the proceeds will fund educational scholarships for youth.
A career leader within the UPS organization Albertson has been a supporter of the Quad County Urban League since coming to the area in 2017. "The Urban League provides vital services to its four county service area and I am proud to continue UPS's long standing commitment to the work it does," said Albertson.
Congresswoman Underwood has served in the House of Representatives since January of this year and sits on the House Committees on Education and Labor, Homeland Security and Veteran's Affairs. As a nurse, Underwood is the sponsor of bills seeking to eliminate co-pays for
chronic conditions, reduce health insurance premiums, lower the cost of prescription drugs and, protect Americans with pre-existing conditions.

"I applaud the QCUL's work on behalf of those seeking better educational, employment and developmental opportunities," said Congresswoman Underwood. "I thank Theodia and her team for their continued leadership throughout the western suburbs and wish them great with this year's event."
"Having effective partners like Guy leading our annual event is key to our success in serving our constituents," said Theodia Gillespie, president and CEO of the QCUL. "Additionally, we applaud Congresswoman Underwood for her consistent leadership within the 14th District and are pleased to have her join us again for this year's Gala."

Guests attending this year's event will enjoy an elegant evening filled with fine dining, live entertainment, a live auction and raffle along with many other surprises. Entertainment headliners are the eclectic and exciting Dirty Muggs of St. Louis. Emcee for the event will be Devorah Crable. The Gala begins at 6:30 p.m. with cocktails and dinner, and a silent auction.
The program begins at 7:30, followed by a live auction. Live auction items include golf and vacation packages with airfare on Southwest Airlines.
Sponsors for this year's Gala include Nicor Gas, ComEd, Comcast, NPL, Southwest Airlines, PNC, The Dunham Fund and UPS. Tickets and tables are still available by calling 630-851-2203 or visiting www.qcul.org . Follow the QCUL on social media using the hashtag #QCUL #StandInTheGapWithQCUL and #AToasttotheFuture.
Details about the event are as follows:
CHICAGO MARRIOTT SOUTHWEST HOTEL
1200 Burr Ridge Pkwy
Burr Ridge, IL 60527
COCKTAILS 6:30 PM
PROGRAM | DINNER 7:30 PM
ENTERTAINMENT BY THE DIRTY MUGG
ATTIRE: BLACK TIE
About the Quad County Urban League
Founded in 1975, the Quad County Urban League (QCUL) supports racial justice, civil rights and economic empowerment for African Americas and others within the Quad Counties (DuPage, Kane, Kendall and Will) of Illinois. As an advocate for educational excellence and economic self-reliance we develop programs and services to empower children, youth and adults. The Quad County Urban League shares the commitment of the 109-year old community based Urban League movement. QCUL joins 99 other dedicated affiliates in their charge to create sustainable economic and civil community models with global impact. Visit www.qcul.org for more information.