Plant-Based Laundry Detergent Company Wins South Side Pitch Competition
11/13/2019, noon | Updated on 11/13/2019, noon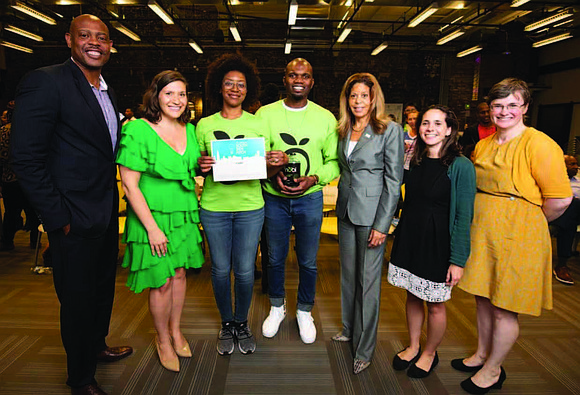 Plant-Based Laundry Detergent Company Wins South Side Pitch Competition
BY KATHERINE NEWMAN
During the sixth annual South Side Pitch competition, hosted by the University of Chicago, Dinobi Detergent came in first-place out of 120 south side-based businesses that entered this year's competition. As the winner, Dinobi Detergent received $5,000 in cash and a one-year membership to Polsky Exchange, a small business incubator and co-working space in Hyde Park.
Dinobi Detergent was created by Augustine and Sylvia Emuwa who live in Bronzeville with their four children. The Emuwas struggled trying to find a laundry detergent that worked for their family and didn't cause their children's eczema to flare up. One day, they decided to quit buying new products and focus on creating their own detergent from scratch. After trial and error and with the help of a qualified chemist, they settled on a four-ingredient formula that is now known as Dinobi Detergent.
"We started having some conversations with folks which led to some informal focus groups and we were able to figure out that there was a need there," said Augustine Emuwa, co-founder of Dinobi Detergent.
Moving forward with their business plan, the Emuwas wanted to build their brand as being a high-quality natural laundry detergent that could be used to clean garments for the entire family, from cloth diapers to athletic wear, and they wanted to make sure it was at an accessible price point.
Their goal when creating Dinobi Detergent was to keep it simple and the four-ingredient formula was perfect for them because as business owners and as parents they firmly believe that less is more when it comes managing sensitive skin.
"Our detergent is made of water, plant-based surfactants, which are basically the ingredients that pull the dirt off of the clothing, vegetable-derived fatty alcohol, which helps the formula to stay together and stay liquid, and lavender essential oil and that's it," said Sylvia Emuwa, co-founder of Dinobi Detergent.
For the recent South Side Pitch competition, Dinobi Detergent was one of 120 south side businesses to submit applications and the Emuwas said that completing the application allowed them to reflect on their business plan and think about how they were going to make an impact on the community through their product.
"For the application, we had to go through a process where we responded to some questions and those questions really set an additional foundation for us because they got us thinking about how we are going to make sure that our business focuses on the south side and on Chicago as a whole," said Augustine Emuwa.