Former LAPD Chief Chosen As Interim Superintendent After City's Top Cop Announces His Retirement
11/13/2019, noon | Updated on 11/13/2019, noon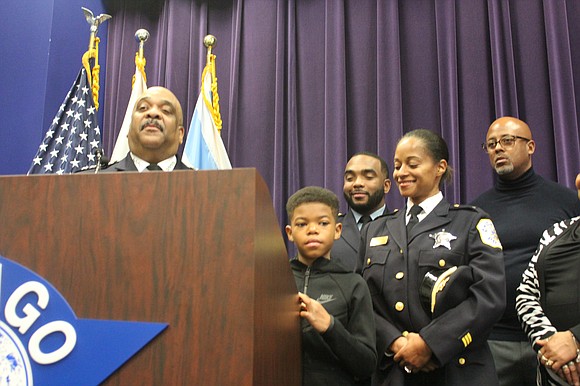 Former LAPD Chief Chosen As Interim Superintendent After City's Top Cop Announces His Retirement
BY WENDELL HUTSON, Contributing Writer
The unexpected announcement last week by Chicago Police Superintendent Eddie Johnson that he will retire next month has led to the selection of an interim police superintendent when the city's top cop retires.
Johnson will officially retire on Dec. 31 and will be temporarily replaced by former Los Angeles Police Chief Charlie Beck until a permanent superintendent is hired, which Mayor Lori Lightfoot said would happen in the next three to six months.
"After 31 years, it's time for someone else to pin these four stars to their shoulders. These stars can sometimes feel like carrying the weight of the world," Johnson said during a Nov. 7 news conference at Police Headquarters with his family by his side.
"This job has taken a toll on me. It has taken a toll on my health and my family but my integrity remains intact."
Former Mayor Rahm Emanuel appointed Johnson superintendent in December 2016 even though he did not apply for the job, and the Chicago Police Board had already selected another candidate for the mayor to consider. At the time, Lightfoot, an attorney, was president of the police board.
Lightfoot, who joined Johnson at the news conference said, "The city will always have a debt owed to you for everything you did to keep our streets safe and make our quality of life better," Lightfoot told Johnson as he started crying. "Chicago is better because Superintendent Johnson called this city his home and dedicated his career to serving it."
West Side Ald. Chris Taliaferro, who joined Lightfoot in announcing the hiring of Beck at a Friday news conference, echoed Lightfoot's sentiments about the superintendent.
"Certainly Superintendent Johnson is owed much credit for crime reduction and improving the overall moral of the police department," said Taliaferro. "His imprint on this city will forever be remembered."
Johnson, a former resident of the Cabrini Green public housing complex on the Near North Side, began his career with the Chicago Police Department in 1988 as a beat officer. He was appointed the commander of the 6th District in 2008, and chief of patrol in 2012 where he stayed until his appointment as superintendent.
"CPD needs strong leadership and I want the next top cop to continue making improvements to public safety and in a department I love," said Johnson. "Chicago is a safer place than when I was appointed Superintendent in April 2016. People in every neighborhood and on every block trusted me with their safety. I will never forget this job or those that have helped me succeed," he said.