ALDERMAN HOSTS TOWN HALL MEETING TO UPDATE RESIDENTS ON THE STATE OF THE WARD
5/1/2019, noon | Updated on 5/1/2019, noon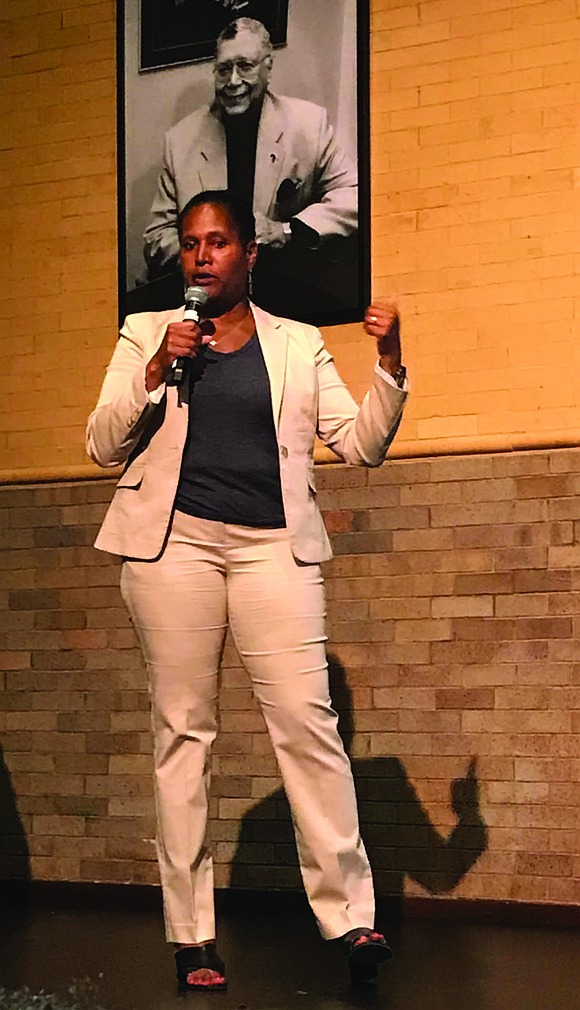 Alderman Hosts Town Hall Meeting To Update Residents On The State Of The Ward
BY KATHERINE NEWMAN
Fourth Ward Alderman, Sophia King, recently hosted a Town Hall Meeting at Northeastern Illinois University's Carruthers Center, 700 E. Oakwood Blvd., to give an update on a wide variety of issues and projects in the ward like development, safety, infrastructure, and education.
During the meeting, Alderman King shared detailed information about numerous projects, accomplishments, and ideas she has for the Fourth Ward which encompasses parts of South Loop, Bronzeville, Kenwood, Oakland, and Hyde Park.
At the beginning of the meeting, Alderman King shared that her office would be creating community advisory committees for different parts of the ward to ensure that the work she is doing accurately reflects the desires of residents.
"We will have community advisory committees in each area and residents will have the opportunity to join if they would like to and advise us around development, infrastructure, safety, education, and just a number of things," said King. "We really want to empower people and get them more engaged with what's going on in their particular area and in the Fourth Ward as a whole."
Like many South Side communities, there are safety concerns in the Fourth Ward that Alderman King took the time to address in the Town Hall Meeting. She encouraged everyone to sign up for her weekly newsletter to stay up to date on safety alerts from the Chicago Police Department.
"We are really looking at statistics and making sure that the police department is held accountable and most importantly, we are trying to form more block clubs so that blocks can communicate with each other better. We have been hitting safety from a number of different ways and I think safety issues are really guided by more systemic issues like education and jobs so we are also trying to work in those areas as well," said King.
Alderman King spent a significant amount of time talking about current and future developments in the Ward and shared with attendees that her number one priority is community inclusion.
"There is a lot of development going on throughout the Ward and our priority around new development is community involvement and making sure that you all know about what developments are coming and that we hear your voice when considering new developments. Also, we are making sure that there is aggressive inclusion in the City that celebrates diversity," said King.
Lastly, King talked about education and her ideas for redeveloping some of the closed schools in the Ward. While these are just ideas right now, she seemed confident in her decision to hold onto the vacant school buildings in in her Ward rather then selling them to developers. She said that she hopes they can soon be transformed into spaces that will benefit the community.
"We have been making sure that we have strong neighborhood schools on a couple of levels. Nothing sparks community development like a strong neighborhood school," said King.
You can view the full presentation that was given at the recent Fourth Ward Town Hall Meeting online at www.aldsophiaking.com/news.