SOUTH SUBURBAN VILLAGE HOSTS COMMUNITY POLICING MEETING WITH NEW POLICE CHIEF
6/12/2019, noon | Updated on 6/12/2019, noon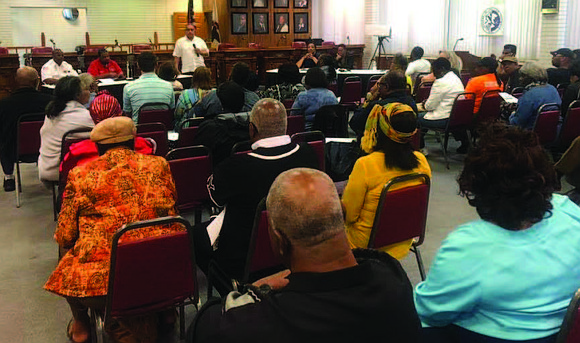 South Suburban Village Hosts Community Policing Meeting With New Police Chief
BY KATHERINE NEWMAN
The Village of Dolton recently held a Community Policing Meeting to allow residents to share their concerns, ask questions related to crime and policing in Dolton, and to hear from Village officials about their plans for creating a safer community.
The meeting also served as an opportunity for residents to familiarize themselves with the newly appointed Interim Police Chief Ernest Mobley. Mobley is temporarily taking over leadership of the Dolton Police Department after former Police Chief Robert Collins resigned from his position, according to the Mayor of Dolton, Riley Rogers.
"There has been a change in the police department. I have a signed resignation from our former chief and I put in an interim person who will be here anywhere from 30 to 90 days," said Rogers. "One of the things that he did immediately, which is something that I have been asking about for a long time, was put police on the street. There were five officers out per shift and we had no shootings or murders during the [Memorial Day] holiday."
As the acting Police Chief, Mobley said that he is focused on making the Village of Dolton safe and both he and the Mayor said that they want Dolton to be known as a community that is tough on crime.
"It's sad when you go in certain communities and people don't do certain things but then they come into their own community and start acting a fool. We want people to know that they can't mess around in Dolton," said Mobley.
One resident spoke at the meeting to ask the Mayor and the Police Chief why the community has been experiencing an increase in crime and how it can be prevented.
"Crime and shootings are done on an opportune basis and we have to confront it. We have to let these criminals know that this is a no-nonsense town and make arrests and be vigilant on patrol. In certain communities, you know you can't speed because you're going to get nailed and we have to create that same type of environment here," said Rogers.
Another resident spoke about how vacant homes are creating opportunities for crime to take place in the community and urged Village officials to prioritize the upkeep of vacant properties.
"We have a number of vacant houses and we have a crew that goes out and cuts the grass at those vacant houses but if you have a vacant house next to you, go out and cut the grass at that vacant house," said Rogers. "We all have to chip in to try to help out."
As the meeting came to a close, Chief Mobley shared with the audience that he is aware of their concerns and wants the residents of Dolton to feel safe.
Every community has a good part and a bad part," said Mobley." Crime is everywhere but we are focusing on Dolton."