Chicago remembers 1919 Race Riots
7/31/2019, noon | Updated on 7/31/2019, noon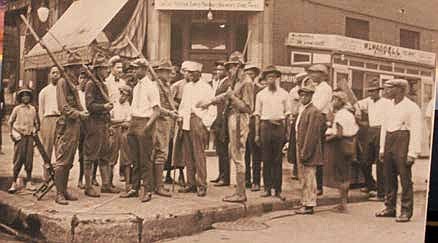 Chicago remembers 1919 Race Riots
BY WENDELL HUTSON Contributing Writer
It was a little over a year ago this week when riots erupted on the South Side following the death of a black youth, who was killed by whites for being on the "wrong" side of a Bronzeville beach.
On Monday, Mayor Lori Lightfoot joined other elected officials and community stakeholders at Paul Dunbar High School, 3000 S. King Drive, for "Past is Present: Chicago Remembers the 1919 Red Summer," which recognized one of Chicago's darkest moments and was attended by 200 people.
It was July 27, 1919 when 17-year-old Eugene Williams was stoned by whites and drowned after his raft accidently crossed the unofficial barrier between Chicago's white and black beaches at 29th Street now renamed 31st Street Beach. Seven days of rioting followed and ended on Aug. 3, but not before 38 people died (23 blacks and 15 whites), 537 injured and more
than 1,000 people left homeless due to arson, according to Timuel Black, a 100-year-old historian.
"History has taught us that when white folks get mad at blacks they can be brutal in their attacks on us," said Black. "Back then, if you were black and lived in Chicago, you had to watch your back because at any moment you could be killed at the hands of whites."
The mayor acknowledged that during the 1900s, racial tensions between blacks and whites were not good in Chicago and across the nation. But she also reminded the crowd of mostly blacks that Chicago
has changed since the riots and will continue to change for the better under her leadership.
"The riots changed Chicago forever but we must now look to the future because these are better times we are living in and we must build better lives for all Chicagoans," said Lightfoot. "So many neighborhoods on the South and West Sides have been stripped of their identity because of painful events like the 1919 riots. But thanks to more diversity and
more opportunities for people of color those neighborhoods and its residents are regaining their prominence and I plan to make sure it stays that way."
She added that youth should be taught about the race riots at schools as a way of educating them about Chicago's history and black history. Chicago Public Schools CEO Janice Jackson, who attended the event with the mayor, was unavailable for comment.
Ald. Pat Dowell (3rd), whose ward includes Bronzeville, agreed with the mayor and said black history should also be taught on a regular basis.
"I've always been an advocate for getting black history taught into our schools," said Dowell. "It's not enough to just celebrate black history for one month. But teaching children about the 1919 Race Riots is definitely a good start."
And Candace Moore, Chicago's first chief equity officer, added, "While we are reflecting on a horrific time in our city's history, formal recognition of the 1919 Race Riots also makes clear our responsibility to work together to create a fair, just and united Chicago."