STEAM SUMMER CAMP HOSTED ON THE WEST SIDE IN PARTNERSHIP WITH THE PARK DISTRICT
7/24/2019, noon | Updated on 7/24/2019, noon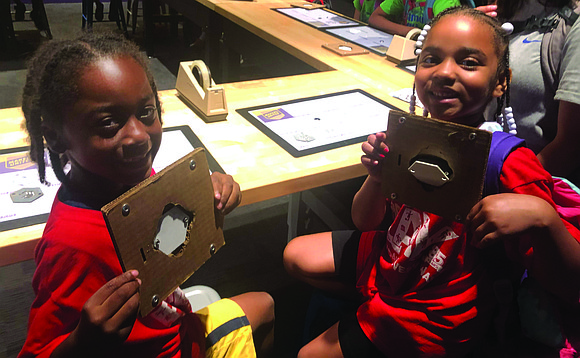 STEAM Summer Camp Hosted On The West Side In Partnership With The Park District
BY KATHERINE NEWMAN
Ladies of Virtue, a local non-profit organization, is currently hosting its STEAM in Action Leadership Summer Program at Douglas Park in North Lawndale. The summer program is being held in partnership with the Chicago Park District and is being funded in part by the Safe and Peaceful Communities Fund through a grant which Ladies of Virtue recently received.
Ladies of Virtue has been partnering with the Chicago Park District and Douglas Park for five years. Ladies of Virtue chose to use the grant money they received from the Safe and Peaceful Communities Fund to strengthen the partnership they had with the park district and enhance the programming that they collectively provide during the summer.
"[The Chicago Park District] mentioned to us that they didn't have resources to take students on field trips and didn't have a lot of creative activities that related to STEAM so when we won the Safe and Peaceful Communities Fund grant, we really thought that this would be a phenomenal way to enhance our partnership with them by providing the students with new opportunities," said Jamila Trimuel, founder and CEO of Ladies of Virtue.
Ladies of Virtue is a non-profit organization that typically works with young women from ages 9 to 18 and prepares them for college, careers, and to become leaders in their communities.
Typically, Ladies of Virtue works specifically with young women but the STEAM in Action Leadership Summer Program is open to both boys and girls.
STEAM stands for Science, Technology, Engineering, Art, and Math and the summer program aims to give the students exposure to all five of those career areas through hands-on activities and field trips. Students also participate in a weekly job readiness program where they learn about leadership, interview preparation, business etiquette, networking, public speaking and work ethic, according to information provided by the Safe and Peaceful Communities Fund.
"One thing we know is that 40 percent of our jobs in the future will be replaced by technology," said Trimuel. "Oftentimes, our students, particularly our black and brown students, are being left behind on the training and the exposure when it comes to STEAM careers and even just on having the chance to be excited about math, science, and technology. So, that's what we're doing now, we are exposing them to those things that they would not have had the chance to do before."
Trimuel said she is a firm believer in early exposures for young people and that's why field trips are a key aspect of the STEAM in Action Leadership Summer Program. Through the program, students are exposed to high paying career opportunities and STEAM concepts that they typically wouldn't have access to.
To learn more about Ladies of Virtue, visit www.lovchicago.org.