Southeast Chicago Chamber of Commerce and Local Southside Artists Bring Their Diverse Community Together with a Public Celebration and World-Class Murals
7/10/2019, noon | Updated on 7/10/2019, noon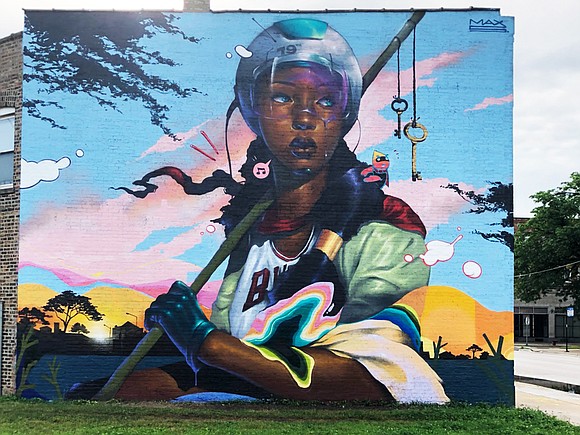 Southeast Chicago Chamber of Commerce and Local Southside Artists Bring Their Diverse Community Together with a Public Celebration and World-Class Murals
The Southeast side has a new reason to celebrate! The Southeast Chicago Chamber of Commerce has been teaming up with AB Productions - a group of expert muralists
and production powerhouses - to bring pop-up festivals and world-class public artworks to Southeast Chicago.
The recent mural installations are part of an ongoing series of artistic community-based events hosted by the Chamber, called Xsite. "Xsite is about transforming available space into pop-up urban experiences by combining the talents of Chicago's most creative minds, to create an interactive experience that attracts people and investment [opportunities] to the southeast side of Chicago," says Frankye Payne, Executive Director of the Southeast Chicago Chamber of Commerce and SSA #50.
"Each event actively engages the public to leave an indelible mark represented in a public mural. Each mural highlights positivity and inclusion in the Calumet Heights/Avalon Park community."
For their latest endeavor, AB Productions curated and facilitated a pair of collaborative murals as well as a limited edition print release, by street art legend Max Sansing, and Chicago's fastest rising star, Kayla Mahaffey. The mural project consists of two large scale artworks that face one another across an abandoned lot. Each piece was designed by the artists individually, then worked on harmoniously, as they traded canvases - adding their own elements of style to each others' artwork in a collaboration unlike any Chicago has ever seen!
In addition to being Lead Artist, Sansing also serves as Creative Director for AB Productions. He calls his design (the West facing mural) "Discovery in Plain Sight," and has this to say about the piece: "[My mural] is a comic book-style play on the idea of the urban astronaut venturing the neighborhoods we've grown up in all our lives. There is much to say about the lack of resources and dwindling populations of our communities, but the potential for greatness and economic growth of our people lies in new discoveries - in the space in which you've already been."
Kayla Mahaffey, aka "Kayla May", designed the concept for the East facing mural, titled "Rise As One." "Our communities are in much need of help repairing families, revenue, and fighting against wrongdoers," says Mahaffey. "Negative impacts like this suppress our growth as a whole, andleave many hopeless. 'Rise as One' narrates the power and impact that an individual - even as small as a child - can have when he/she takes a stance for what's right.
"Before Xsite there was no public art that adequately represented the cultural identity of the community today," says Payne. Working with these artists has connected this community with local art and culture in a way that has never happened before. These artists are from the community and understand the underlying sensitivities and meanings that each of these murals have, [and can] convey the significance that this culture deserves representation. Art saves lives, and this group just gets it."
AB Productions works on murals with artists from all over the world, but Owner and Lead Production Specialist Abie Vasquez, says projects like these for the Southeast Chicago Chamber of Commerce are among some of the most rewarding.
"I'm a native of the Southside. It's where I was raised, it's home to me," said Vasquez." This particular project was even more impactful because of the relationship to the children and youth of the community. It is so imperative to get out and explore your community, your surroundings. That's how we grow as individuals, and how we strengthen our neighborhoods."
In conjunction with the installation, AB Productions and the Southeast Chicago Chamber of Commerce and SSA #50 will host a mural unveiling celebration on location, at 1842 E 79th St, Friday, July 12, from noon - 2pm. There will be a DJ, food, an opportunity to meet the artists, and of course a stunning view of the larger than life artworks - all with free entry for the public.
The collaborative, limited edition prints and a select number of hand-finished multiples will go on sale Thursday, July 11 at 2PM CST, at www.TheArtParty.gallery .
"[These murals are] one of many steps to rebrand the perception of this community," says Payne. "It is important that the city of Chicago begins to acknowledge the good happening here.
My goal is for the Calumet Heights/Avalon Park community to become a destination."
About The Southeast Chicago Chamber of Commerce and Special Service Area #50 (SSA #50): The Southeast Chicago Chamber of Commerce and Special Service Area #50, a not-for-profit organization serving the Calumet Heights-Avalon Park areas, supports investment and development within the community. Both the Chamber and SSA #50 encourage stability and growth within the business district and community by promoting business improvement programs, economic development initiatives, safety programs and a clean environment.
About AB Productions: With over 20 years of mural work experience, Alpha Bomber Productions LLC is a full-service mural and art production company, offering a complete spectrum of mural consultation and production services, such as: strategic and logistical planning; design and artwork conceptualization; wall and site preparation; equipment rental/coordination; production and installation; project management; site clean up; PR services and special event production/management.