Millennium Park Theatre Series Includes Nine Local Theatre Companies Performing From July Until October
7/10/2019, noon | Updated on 7/10/2019, noon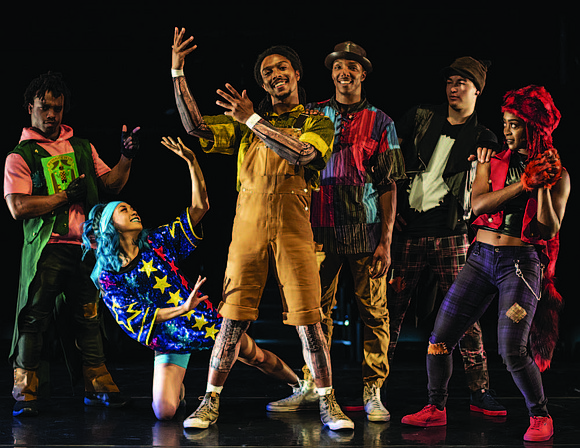 Millennium Park Theatre Series Includes Nine Local Theatre Companies Performing From July Until October
All the world's a stage – especially at Millennium Park this summer. Th e Chicago Department of Cultural Aff airs and Special Events (DCASE) has announced nine new Millennium Park Summer Th eatre Residencies as part of the 2019 Year of Chicago Theatre.
The free series will feature nine local theatre companies performing throughout Millennium Park on select dates from July to October. Th e participating companies include:
Aguijón Theater Company, Barrel of Monkeys, CircEsteem, Chicago Dance Crash, Chicago Full Moon Jam Productions, Collaboraction Theatre Company, Emerald City Th eatre, eta Creative Arts Foundation and Free Street Theater.
The companies have been commissioned for one-week residencies and will present site- specific theatre performances that engage the Park's unique architecture, design and public art – with Wrigley Square, the Great Lawn and Cloud Gate Plaza serving as the stage. For details, visit MillenniumPark.org.
"We are very proud to present nine of our city's most dynamic and diverse theatre companies at Millennium Park, Chicago's town square," said DCASE Commissioner Mark Kelly. "To truly fall in love with Chicago, you must go to our theatres. This is where the city bares its fearless soul. From Broadway musicals to storefront plays and improv, there's a seat waiting for you at one of our more than 200 theatres – and, this summer, in Millennium Park.
The Millennium Park Summer Theatre Residencies were made possible by the generosity of the Bayless Family Foundation. Additional support from the Millennium Park Foundation and the Lloyd A. Fry Foundation Endowment at Millennium Park Foundation, in conjunction with the summer-long Family Fun Festival, will help to
support theatre programs for families including daily, interactive drama workshops presented by Lookingglass Theatre July 22-26 at Chase Promenade North.
Throughout the summer, Rick Bayless, acclaimed Chicago chef and theatre enthusiast, will host video interviews with the Millennium Park Theatre companies to further showcase what makes each of these companies worth celebrating. "This performance series is all about spotlighting the wildly vibrant and diverse talent here in Chicago," said Rick Bayless. "To have it hosted in Millennium Park, in all its summertime glory, is just spectacular."
Visitors to Millennium Park are also invited to interact with a special Year of Chicago Th eatre public art activation by scenic designer Eleanor Kahn. The work is comprised of a skeletal series of mirrors and doorways with a playful interior, to be installed at Cloud Gate Plaza in July. Guests are invited to open doors and travel
through a maze that constantly shift s their interior perspective, reframes their view of the outside world with shape and color – and go on their own adventure. A Hot Tix booth will be onsite on key dates, off ering half-price tickets to a wide variety of Chicago theatre productions.
Just halfway through the year, DCASE and the League of Chicago Th eatres have already accomplished many things on behalf of Chicago's 200+ theatres – having secured $1 million in new foundation support; off ering more fi nancial grants to theatre projects; the launch of a new theatre asset mapping project aimed at bolstering theatre on the South, Southwest and West Sides; a major advertising campaign and global media events; strategic partnerships; theatre-themed cultural programming at Millennium Park (fi lm series, theatre series), the Chicago Cultural Center (exhibitions, special events), the Chicago Riverwalk (Art on theMART, lantern processions), and in all 77 community areas as part of the Chicago Park District's 'Night Out in the Parks' series; and more. Over 100 arts industry volunteers are serving on committees to advance this important initiative.
Promotional and programming support for the Year of Chicago Theatre is provided by Art on theMART, Chicago Loop Alliance, Choose Chicago, HMS Media, Illinois Restaurant Association, LUMA8, The Magnifi cent Mile Association, Metropolitan Pier and Exposition Authority and others—plus many City departments and sister agencies including the Chicago Park District, Chicago Public Library, Chicago Public Schools, Chicago Transit Authority and Department of Aviation.
The Year of Chicago Th eatre follows the success of 2017 and 2018 initiatives celebrating Chicago's public art and its creative youth.
The mission of the Year of Chicago Theatre is to make 2019 a year in which the city emphasizes the prominence of its expansive and innovative theatre industry.
For more information about the Year of Chicago Th eatre, visit ChicagoPlays.com and join the conversation on Social Media (Facebook, Twitter and Instagram) @ ChicagoDCASE and @ChicagoPlays (#2019isYOCT #ChiTheatre).