Historic high school still opening doors for black students
2/20/2019, noon | Updated on 2/20/2019, noon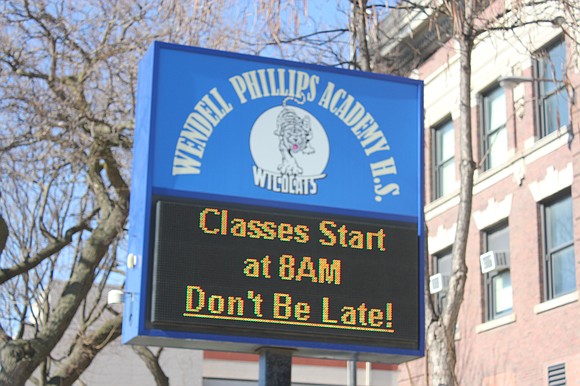 Historic high school still opening doors for black students
BY WENDELL HUTSON, Contributing Writer
When Wendell Phillips Academy High School was built in 1904, it became the first public high school in Chicago to have a mostly black, student population even though it's named after a white man.
The school is named after a Boston attorney, abolitionist and social reformer, who became the antislavery movement most powerful orator and, after the Civil War, was the chief proponent of full civil rights for freed slaves, said Timuel Black, a Chicago historian and civil rights activist.
"He was one of the few white men back then who fought for equality for slaves," said Black, who once attended Phillips high school. "I just hope the students at Wendell Phillips are being taught in the classroom who this man is and what he did to help blacks."
And now 115 years after Phillips, 244 E. Pershing Road, was founded the school still has a mostly all-black population. Today, 98 percent of its (703) students are black, according to Chicago Public Schools data.
Principal Matthew Sullivan said the school gained 200 students this school year, in part, because CPS, the nation's third largest school district with 361,314 students, closed four high schools in Englewood last year.
"Getting more students this year is good considering the building could accommodate about 1,100 students," said Sullivan, who has been principal since 2014. "Wendell Phillips is a neighborhood school but we have students who travel from across town to attend here and I think that says a lot about us and what we offer our students."
One of those students is freshman Asia Piggott, 15, who resides in South Shore on the Far East Side of Chicago.
"I could attend a school closer to my home and not travel so far but I [like] Phillips because this school has a lot of history and people tend to look over that," said Piggott. "I normally leave my house around 6 a.m. (by bus) to make sure I make it to school for my first class at 8:15."
Other students like Angelia Cosey, a 17-year-old senior, said she likes Phillips because teachers and counselors encourage students to consider college after high school.
"Teachers here push you to want to be in college. They have that focus and drive for you even if you don't have it for yourself," said Cosey, who plans to study nursing at Eastern Illinois University this fall. "It is a graduation requirement that all seniors apply to five colleges and five scholarships. They do this because they want us to succeed."
She added that for those students who do not plan on attending college, the school provides other options, such as assistance with applying to the military or a vocational training program.
When Sullivan first began working at Phillips in 2010 as a history teacher, he said for the first four days of school, only one student showed up for class.
"That was a signal as to how bleak things had gotten. The one student that came to school during that time told me stories about Phillips," recalled Sullivan. "And basically what he said reminded me of the opening scene of the (1989) movie 'Lean on Me' (starring Morgan Freeman.")
But since that time Bronzeville high school has accomplished a lot, said Sullivan, including its varsity football team winning the state championship in 2015 and 2017.
Trevon Walker, 18, is a member of the championship football team.
"For me, football was a huge plus to be here. But besides that, it is a good school for any student regardless of race," said Walker, a senior who lives in Roseland on the Far South Side.
Aside of athletics, Sullivan said students have improved overall scores on tests, such as the ACT (American College Test).
"Wendell Phillips became a 'turnaround school' in 2010 and that's when the Academy of Urban School Leadership (AUSL) began managing the school as it still does today," explained Sullivan. "But in the last nine years we have made improvements both in and outside the classroom. And I am proud to say we have maintained a 100-percent, college acceptance rate for the last four years, while our 2018 graduating class received almost $11 million in scholarships."
When a school goes through a turnaround, the nonprofit AUSL takes over daily management of the school for CPS, and all the employees, including the principal, must reapply for their jobs.
One downside about attending Phillips is the dress code, said Alexis Pruitt, an 18-year-old senior.
"They are deaf on us wearing our uniform no matter what," contends Pruitt, who also lives in South Shore. "They take this uniform thing way over board sometimes."
Since 2000, demographics in Bronzeville has changed, according to census data, from predominantly black, low-income residents to now include more middle-class whites.
And while Sullivan said he does not think that has made a big difference with Phillips, students said more diversity among students would improve the school's culture.
"Our school has tried to diversify the student population but I think when you have a school with limited resources, diversity is not an easy thing to do," said Shameir Faulkner, a 17-year-old senior residing in Avalon Park. "The world is not all black and after we leave college we will have to enter the 'real world,' which consists of all nationalities, and it would be good for us to be exposed to other races before we graduate."
Ultimately, Sullivan said Phillips will get back to its 'glory days' and when it does, he plans to welcome it back with open arms.
"The school was a beacon of greatness in the 1940s and 1950s, said Sullivan. "And that is where I want to see the school return."