Civil rights activist dedicates his life to community service
2/13/2019, noon | Updated on 2/13/2019, noon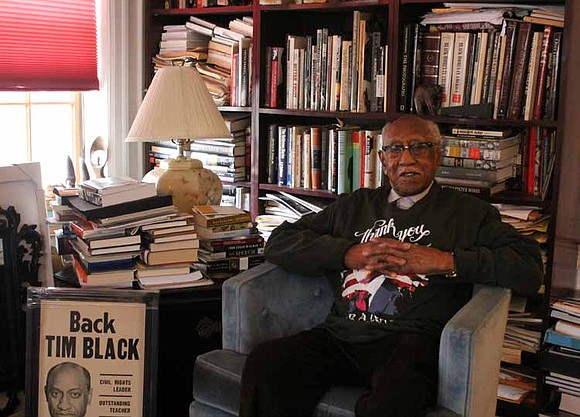 Civil rights activist dedicates his life to community service
BY WENDELL HUTSON, Contributing Writer
These days Timuel Black, a historian and civil rights activist, can walk without a cane, travels around town alone and still remembers his childhood days growing up on Chicago's South Side.
That's not bad for a man who turned 100-years-old on Dec. 7. The retired City Colleges of Chicago teacher recently sat down with the Citizen to reflect on where the black community has been, where it is headed and how he helped change black history in Chicago.
"Housing segregation still exists in Chicago. More unity is needed in the black community," said Black. "Nowadays, there's a unique class-separation, but back when I was growing up there was no class-separation among blacks. We all looked alike and we all lived in the same neighborhoods."
He said during his generation, black kids lived at home with both parents. "There were mostly two-parent households back then but today that is less than 35 percent," contends Black. "The community has disconnected itself from helping families and now we have a bunch of single mothers raising children with no help from the community."
One thing Black said that bothers him is to see so many young people not planning for the future.
"The reason you see so many young people shooting each other is because they do not believe there is a future for them and they just don't care about their actions," added Black. "That's why you don't see more young people voting and getting involved with their community."
He added that if you ask a young person what do they look for when shopping they would probably say they look for the best they can find at the cheapest price.
"And I would tell them that is exactly how slave traders shopped when they went to Africa looking to buy slaves," said Black. "Sometimes it's not about getting the cheapest price for something because in life you have to be willing to pay more to get more and that means making sacrifices."
According to Black, technology has taken away many jobs blacks once held, so blue collar jobs are in less demand.
"We [blacks] were brought here as cheap labor but today, economically, we are no longer needed," said Black. "According to their [whites] standards, we cost more than we bring in. So why should they need us? To find the answer
to this question I suggest everyone should read the book Who Needs A Negro by Sidney M. Willhelm."
Black said he tried improving life for blacks by getting politically involved and helping blacks like the late Harold Washington get elected as Chicago's first black mayor in 1983. Black also campaigned for President Barack Obama in 2007 and organized protest marches for Dr. Martin L. King Jr. during the 1960s when he visited Chicago.
In a letter to Black last December celebrating his 100th birthday Obama said, "Tim's lifetime of service is a testament to just how powerful it is to wield love stronger than hate. Because he devoted his gifts of community organizing, young people across Chicago can dream a little bigger and they can aim a little higher, and for that, we owe Tim a profound debt of gratitude."