Dr. Martin Luther King Jr. Street has rich history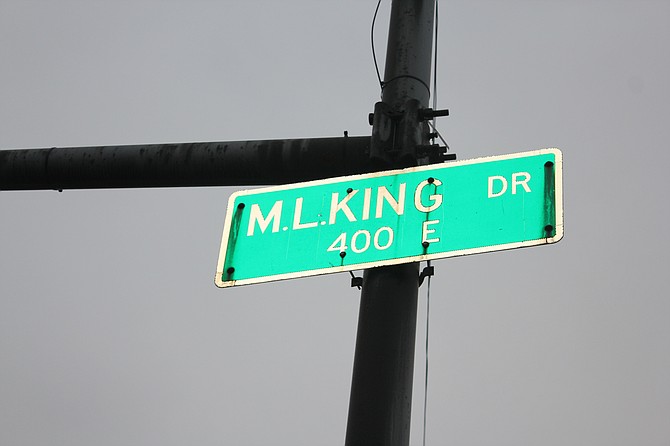 ---
Dr. Martin Luther King Jr. Street has rich history
BY WENDELL HUTSON
Contributing Writer Across the world, the street, Dr. Martin Luther King Jr., can be found more than 900 times including on Chicago's South Side.
In Chicago, the street spans 14 miles and begins just south of East Cermak Road and four blocks east of South Michigan Avenue before ending at 115th Street.
And King Drive, as it is often referred to, runs through predominantly black, South Side neighborhoods like Chatham, Woodlawn, Roseland, and Bronzeville.
After first being named Grand Boulevard and then South Park Way, it was renamed Dr. Martin Luther King Jr. Drive in 1968 thanks to the late Alderman Leon Despres (5th), a white King supporter who first sponsored an ordinance to rename a street after King.
Despres originally wanted MLK Street to be located downtown, but the late Mayor Richard J. Daley chose to support a South Side location instead.
King Drive is a busy thoroughfare on the South Side and anytime you have a main street located in your community, it could help boost the local economy, said Alderman Pat Dowell (3rd), whose ward includes Bronzeville.
"I think King Drive has contributed to the economic vitality of Bronzeville," explained Dowell. "King Drive is lined with historic churches like Liberty Baptist, South Park Baptist and Metropolitan Apostolic Community Church where you have tremendous history that has happened."
According to Timuel Black, 100, a Chicago historian, King streets are located in predominantly black neighborhoods throughout the country. Black, also a civil rights activist, added that he helped King, a Baptist minister, organize protest marches when he came to Chicago including on the West Side where King had an apartment.
And the Rev. Jesse L. Jackson, founder of the Rainbow PUSH Coalition, said he too assisted King when he visited Chicago by running a Chicago chapter of an economic empowerment program called Operation Breadbasket to get companies to hire more blacks and contractors.
Jackson was with King when he was shot dead on April 4, 1968 at age 39 while standing on a motel balcony in Memphis, Tenn. At age 35, King became the youngest person to receive the Nobel Peace Prize in 1964.
In an interview with the National Geographic magazine, Daniel D'Oca, a Harvard University professor, said,
"Once you name a street after someone like King, you better be certain that you maintain the street as a monument to him, so that if he were to come back and visit the street, he would be proud."
However, one community activist said more needs to be done to keep King's dream alive.
"The street name itself represents a great person, but I don't believe we as a community are doing anything to enhance the true meaning of the man who we honor," said Richard Wooten, president of the nonprofit Greater Chatham Alliance. "I would like to see MLK Street expanded just as Pulaski Road and other streets named after prominent people [were extended]."
Wooten, a Chatham resident and aldermanic candidate for the sixth ward, which represents Chatham, Park Manor and parts of Englewood, added that blacks must do the 'leg' work in making sure King's sacrifices do not go unnoticed.
"As a servant, Dr. King took a stance and dedicated his life for the change that many of us are now benefiting from," said Wooten. "It's important that we keep up the fight and educate our young, so that we don't allow history to repeat itself."
Born to the Rev. Martin L. King Sr. and Alberta Williams, King was one of three children. His birthday is Jan. 15, but is observed nationally as Martin Luther King Jr. Day on the third Monday of January each year as a federal holiday. In 1983, the late President Ronald Reagan signed legislation recognizing the day as a national holiday, and on Jan. 20, 1986, the first King Day was observed.
D'Oca added that the total number of MLK streets globally is 1,000 including several in Germany where King's father, also a Baptist preacher, got the idea to name him after he visited Berlin in 1934. King Jr. was 5-years-old when his father changed both his first name and his firstborn to Martin from Michael.
Wooten said the best way he can describe King is "a man of courage who sacrificed his life for the sake of equality."
---