ONCE HOMELESS, HYDE PARK MAN IS NOW A UNIVERSITY OF CHICAGO SCHOLAR
12/11/2019, noon | Updated on 12/11/2019, noon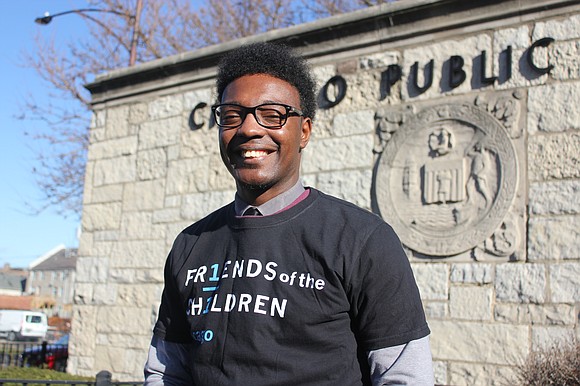 ONCE HOMELESS, HYDE PARK MAN IS NOW A
UNIVERSITY OF CHICAGO SCHOLAR
BY WENDELL HUTSON, Contributing Writer
After growing up poor in the West Englewood neighborhood, Maurice Washington said he endured homelessness and ran with a local gang long before he became a graduate student at one of the top universities in the country.
Washington, 27, earned a bachelor's degree in Social Work from Western Michigan University and is currently enrolled as a part-time, graduate student at the University of Chicago pursuing a master's in Social Service Administration.
He said growing up with an unemployed, alcoholic mother and without a father led to his family, which included a younger sister, being evicted numerous times from apartments, and was ultimately the reason why his mother decided to move the family to Michigan.
"I was 13-years-old when we moved to Kalamazoo (Michigan) and for me, it was a culture shock because I was used to being around African Americans only," said Washington, who added his school teachers did not understand him because of how he talked as a Chicago kid. "My grades suffered initially as a result of this."
For the next nine years, Washington said he resented his mother for taking him away from his Chicago friends and moving him to a place he deemed as strange.
"I may have went to school in Michigan, but I would come back to Chicago every chance I got during school breaks," he said. "I rejected every one in Michigan because I did not want to be there."
Today, Washington said he pays his mother's monthly $25 rent and pays her cell phone bill each month so he can stay in touch with her. His father lives in St. Louis and he pays his monthly cell phone bill too.
"Even though they were not there for me growing up, I forgive them because I know it's a generational thing and they were raised [in] the same neglectful manner," he added.
The turning point though for Washington came during high school when he enrolled in a barber school where he learned how to be a man before he became a man.
"I became one of the youngest, licensed barbers in the state of Michigan," contends Washington, who said he plans to run for 16th Ward alderman after he earns his master's degree and then ultimately run for mayor of Chicago. "I promised my grandmother, who died five years ago, I would someday be mayor and I plan to honor that promise I made to her."
As a barber, he received tips from customers and used it to pay rent for his mother and buy food for the family.
"I remember going to bed hungry and waking up hungry. My home was not the greatest place for education either," said Washington, who works as a full-time, youth mentor for the nonprofit Friends of the Children Chicago. "My mother never finished school so she never valued education. I learned at an early age never to bring homework home because it reminded my mother that she never finished school and it would result in abuse."