BLACK-OWNED CYBER SECURITY FIRM OPENS CHICAGO HEADQUARTERS ON SOUTH SIDE
8/7/2019, noon | Updated on 8/7/2019, noon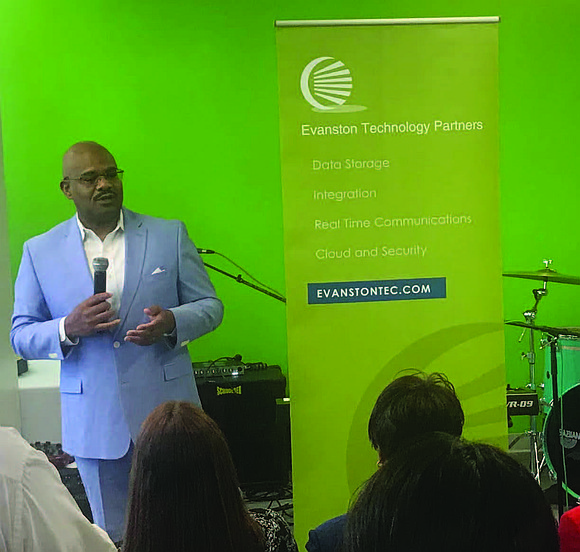 Black-Owned Cyber Security Firm Opens Chicago Headquarters On South Side
BY KATHERINE NEWMAN
Evanston Technology Partners recently celebrated the grand opening of their Chicago headquarters at 56 E. 47th St. in Bronzeville's historic Rosenwald Court. The 5,000 square foot facility houses office space for the company which is Chicago's first black-owned cybersecurity firm.
Evanston Technology Partners is a certified African American Minority Business enterprise and provides technology and software support along with cybersecurity services to its clients. The services that Evanston Technology Partners offers to its clients enables them to advance towards technology systems that efficiently exchange and make use of valuable information.
"Growing up in Bronzeville and the Cabrini Green housing projects, my family was the least educated and poorest on the block. My mother had two children at the age of 15 but now we are here," said Emmanuel Jackson, founder, CEO, and president of Evanston Technology Partners. "There are a lot of things to be thankful for and most important part of this process is that we have pushed onward."
For the last four years, Emmanuel has been working with 3rd Ward Alderman Pat Dowell to bring this project to life. Emmanuel said that they are working with a "double bottom line" which he describes as meaning that not only will this facility grow profits for Evanston Technology Partners but it is designed in a way that will also have a positive social and economic impact on the community.
There are currently about 400,000 unfilled cybersecurity jobs in the United States and that number is predicted to reach 3.5 million by 2021, according to Cyber Security Ventures.
"It's my belief that if we could have at least 20,000 of those jobs available on the south and west sides of Chicago it will create a shift," said Emmanuel.
For this project, Evanston Technology Partners was awarded a $500,000 TIF Works grant which will allow them to hire about 50 people and he plans to hire from the community as much as possible. The average salary will be about $40 an hour, according to Emmanuel.
The new headquarters in Bronzeville has large windows looking out onto 47th street and people passing by will be able to look in and see the office filled with computer monitors, televisions, and Evanston Technology Partners staff working to provide cybersecurity and software support for various clients.
"I'm so glad that Evanston Technology Partners decided to bring their business to the Bronzeville community, we really truly appreciate it. This is important because when kids walk by here and they look in the windows and see African Americans working on computers and they get to know the man that owns this place, they are going to see people that look like them," said Ald. Dowell. "I am very proud today and you all should be very proud of what this brother has accomplished."
To learn more about Evanston Technology Partners, visit www.evanstontec.com.