Cultural Icon Timuel D. Black, Jr. Feted on 100th Birthday, Receives French Legion of Honour
Honoring a lifetime of Achievement, Music and Memories at Centenary Celebration Weekend
11/28/2018, noon | Updated on 11/28/2018, noon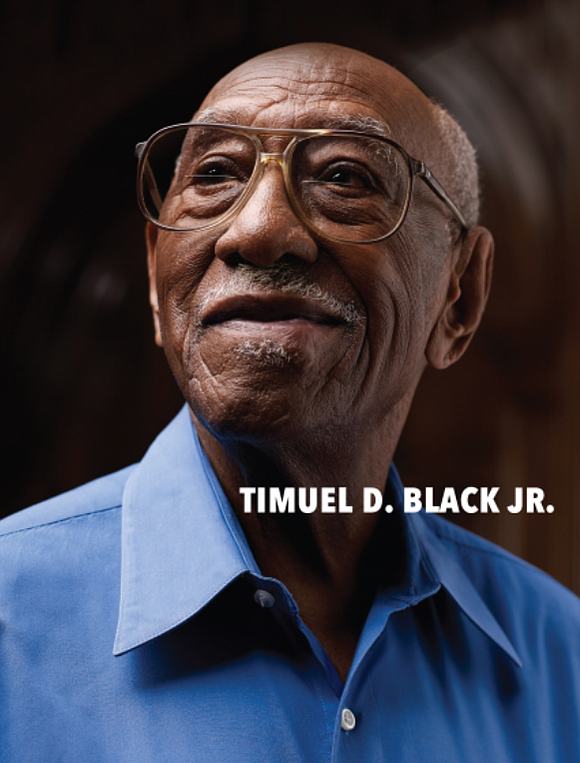 Cultural Icon Timuel D. Black, Jr. Feted on 100th Birthday, Receives French Legion of Honour Honoring a lifetime of Achievement, Music and Memories at Centenary Celebration Weekend
In his Bronzeville neighborhood, he is known as Baba, Griot. Teller of tales, fighter of the good fight, protector of our history. He is a cultural icon, a larger than life figure whose legacy encompasses more than 80 decades. His life's journey has been one of serving country, building family, securing civil rights and supporting community. On December 8-9, 2018, Chicago will celebrate the 100th Birthday of Timuel D. Black, Jr. with events in Chicago at Logan Center and at the South Shore Cultural Center.
The Vivian G. Harsh Society, Inc. and the Tim Black 100 Committee will present The Life and Times of Timuel D. Black: A Centenary Symposium, on Saturday, Dec. 8th from 1:00 p.m. – 5:00 p.m. at Logan Center, 915 E. 60th Street. Free but you must register to attend.
TDB 100 Years: Music & Memories - Gala Birthday Party is set for Sunday, Dec. 9th, 3:00 p.m. – 7:00 p.m. at South Shore Cultural Center, 7059 S. South Shore Drive. The French Consul General will bestow on Black the French Legion of Honour Medal. Robert "Baabe" Irving III, a native Chicagoan and outstanding jazz musician and composer, has been commissioned to create a composition for the occasion. "Sound Pictures of a Century-The living Legacy of Timuel D. Black" will be premiered by an 18 piece orchestra featuring Dee Alexander and Maggie Brown at the gala. Black, whose actual birthday is December 7th, is a jazz aficionado and has been a member of the Board of the Jazz Institute of Chicago for over 20 years. NBC-5 Special Contributor Art Norman will serve as the emcee.
"We are excited to pay homage to Tim Black, our brother, our Chicago treasure," said Father Michael Pfleger, Senior Pastor, St. Sabina. "It is fitting that we honor him for a lifetime of unparalleled service to the community. He is an educator, soldier, political activist, lecturer, civil rights leader, author and social historian. He is all those things and more to us."
The weekend celebrations are expected to attract more than 500 well-wishers, including community representatives, business leaders, elected officials, educators and jazz enthusiasts. "Many attending will be those who worked with him in the trenches of struggle, who marched, protested and campaigned; who shared heated debates and board meetings with him," stated Congressman Danny K. Davis. "In his life, in his work, in his writings Tim has been the tireless standard bearer for equality, social and economic justice and empowerment. He continues to inspire us each day."
Symposium participants include Lonnie Bunch, Founding Director, Smithsonian's National Museum of African American History and Culture; Christopher Reed, Professor of History Emeritus, Roosevelt University; Leon Dash, Professor of Journalism, African-American Studies and Law, University of Illinois at Champaign; Adam Green, Associate Professor of History, University of Chicago; James Grossman, Executive Director, American Historical Association; John Bracey, Professor, W.E.B. Du Bois Department of Afro-American Studies at the University of Massachusetts at Amherst; Barbara Ransby, Distinguished Professor of African American Studies, Gender and Women's Studies, and History, University of Illinois at Chicago; Robert Starks, Associate Professor, Northeastern Illinois University; Bart Schultz, Director of the Civic Knowledge Project and Senior Lecturer in the Humanities, University of Chicago; author Susan Klonsky; Moderators will be Natalie Moore, Reporter, WBEZ; and Elizabeth Todd-Breland, Assistant Professor of History, University of Illinois at Chicago.