Padilla discusses his immigrant experience during Thornton Township's Celebration of Hispanic Heritage Month
11/14/2018, noon | Updated on 11/14/2018, noon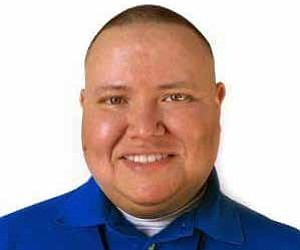 Padilla discusses his immigrant experience during Thornton Township's Celebration of Hispanic Heritage Month
Thornton Township celebrated Hispanic Heritage Month with music, dance, and authentic food. This year's event was held at Thornton Township Senior/Youth & Family Services Center located at 14323 S. Halsted, Riverdale, Illinois.
Entertainment was provided by Thornton Township Mexican Folklore Dancers, Magician Ken Mate, and the Holy Cross Immaculate Heart of Mary Marimba Ensemble. Juan Pablo Padilla was the guest speaker, and he spoke about "What is a Latino?" and his immigrant experience.
Padilla emphasized, "Being Latino in 2018, we're not all Mexicans and Puerto Ricans. Many faces, many cultures. We cannot be put into one box - different cultures, different backgrounds. We need to redefine ourselves and work as a community."
Bert Rivera, Chairman for the Thornton Township Hispanic Heritage Month Celebration and Human Relations Commissioner, stated that he has been involved with this event for 7 to 8 years.
"The event was a success due to the venue. People were having a great time. I totally agree with Padilla regarding our contributions to the United States. Supervisor Frank Zuccarelli and Thornton Township Board of Trustees are very active by getting participation from a lot of different ethnic groups. Latinos need to be more active and get involved, particularly the young group," said Rivera.
"Padilla did a great job about explaining Hispanic Heritage Celebration. Hispanics come from every continent in the world. Hispanics represents all us. We are international,"said Oscar M. Canales, Event Co-Chairperson, Master of Ceremonies and Thornton Township Human Relations Commissioner. Canales continued to say, "I have been the Master of Ceremonies for almost 10 years. A little over 100 people attended the Thornton Township Hispanic Heritage Month Celebration." Canales speaks both English and Spanish, and is from Mexico too like Padilla.