South Side Home Movies Give A Better Understanding of History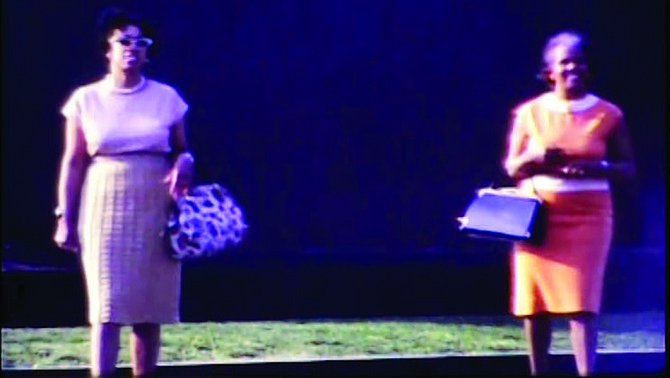 ---
South Side Home Movies Give A Better Understanding of History
BY KATHERINE NEWMAN
The South Side Home Movie Project's Women of the South Side Exhibition is currently on display at the South Shore
branch of the Chicago Public Library. The exhibition will run through March 30 and features home movie selections from four Southside families who used film to document their lives and adventures. This particular selection of film focuses on female contributors and film subjects in honor of Women's History Month.
"We conceived this exhibition because it's Women's History Month. In our collections, we have a lot of filmmakers that are actually women and so we pulled from our collections to create a compilation that focuses on women. There is travel footage, picnics, Christmas and Easter celebrations and all of it focuses on women here on the South Side spanning the years roughly 1940 to 1960," said Candace Ming, program manager and archivist for the South Side Home Movie Project.
The South Side Home Movie Project works to collect, preserve, digitize, exhibit, and research home movies made by residents of Chicago's South Side neighborhoods. They provide free digitization services to anyone who has home movies, from the South Side, shot on 8mm, Super8mm, 16mm film, according to the South Side Home Movie Project website.
"I think it's just important as a way to document the history of the south side to show how diverse and amazing this neighborhood is," said Ming. "I think home movies have the capacity to open up our views of what we think of as rigid historical events and also to show different aspects of the South Side."
The movies that can be seen in the Women of the South Side Exhibition depict holiday celebration, college graduation, travel, and picnics hosted for family and friends, according to
the Women of the South Side Exhibition flyer.
"One of them is an annual picnic that a family did for Howard University alumna here in Chicago, that was in the 1950's. The other was the husband filming his wife and extended family picnicking in Jackson Park and 33rd street beach in the 1940's. What he was filming again were women out on the South Side having fun and that kind of thing. The other two collections we chose were actually shot by women.
The films show a different side of African Americans and South Side history that Ming said many people don't take into consideration.
"I think the home movies from these people really show a different aspect and a different way of life than what people would think existed on the South Side. I get a lot of feedback that people are surprised by the travel footage we have from our African American donors. Even today, people don't think that in the 50's and 60's African Americans traveled, but we did," said Ming.
For more information on the South Side Home Movie Project and to take advantage of their free digitization services visit www.sshmp.uchicago.edu.
---