Fourth Ward Gives Advice On Preventing Carjackings
3/7/2018, 3:49 p.m. | Updated on 3/7/2018, 3:49 p.m.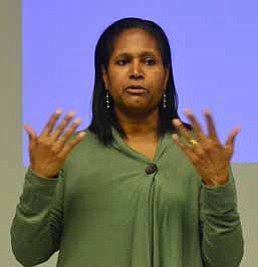 Fourth Ward Gives Advice On Preventing Carjackings
By: Katherine Newman
Fourth Ward Alderman Sophia King recently called together members of the Chicago Police Department (CPD) to discuss public safety and how to prevent motor vehicle thefts in the community.
There has been an increase in motor vehicle theft in the second
police district compared to last year, according to CPD's week eight CompStat report for District two. The CompStat report shows that for the month of February motor vehicle theft is up seven percent from February of last year even though crime overall is down 15 percent for the month of February, compared to last year.
"There has been an increase in carjackings all across the city and obviously that's affecting us too so we are trying to stay on top of it," said King.
"A high percentage have been crimes of opportunity with the car thefts. It doesn't make it right but we want to arm people with the fact that most of them are people leaving the keys in the car and walking away or doing things that they can otherwise avoid."
King has been having regular public safety meetings for quite some time now to address the concerns of her district and to arm constituents with a better understanding of how to avoid being targeted for theft. She has called together a team of public safety workers who are all working together to make the community a safer place.
One member of the team is CPD District 2 Commander, Crystal King-Smith. She attended the meeting to talk about crime statists in her district and to share a document titled "How Not to Become a Victim" that was passed around at the safety meeting.
The document lists 33 tips for being more cautious and preventing theft. Some of the advice she has listed for preventing car theft is to lock car doors while pumping gas, turn away from gas pumps and watch your surroundings, activate cell phone tracking systems before they need to be used, and if you are bumped by the car behind you call 911 before you get out of the car.
Calling 911 right away is important whether you are the victim of a crime or a witness. King has included the Office of Emergency Management and Communications (OEMC) in her safety meetings to make sure everyone knows what information 911 operators are going to ask for.
"People shouldn't assume that their neighbors are calling 911. If people see something they need to call us and say something," said Michael Tracy, a representative from the Office of Emergency Management and Communications (OEMC) When calling 911 know that operators are trained to ask several questions about the crime and the offender.
It is important to share as many details as you can so the first responders can be prepared. Things like skin color, facial hair, tattoos, size and color of the vehicle, and anything you can remember about the license plate is all helpful information for operators to share with first responders.
Alderman King said she has seen the safety meetings getting smaller, which she thinks is a good thing because it means people are feeling safe again.
To stay up to date on police alerts and upcoming safety meetings in the fourth ward visit www.aldsophiaking.com and subscribe to Alderman Kings Weekly newsletter.